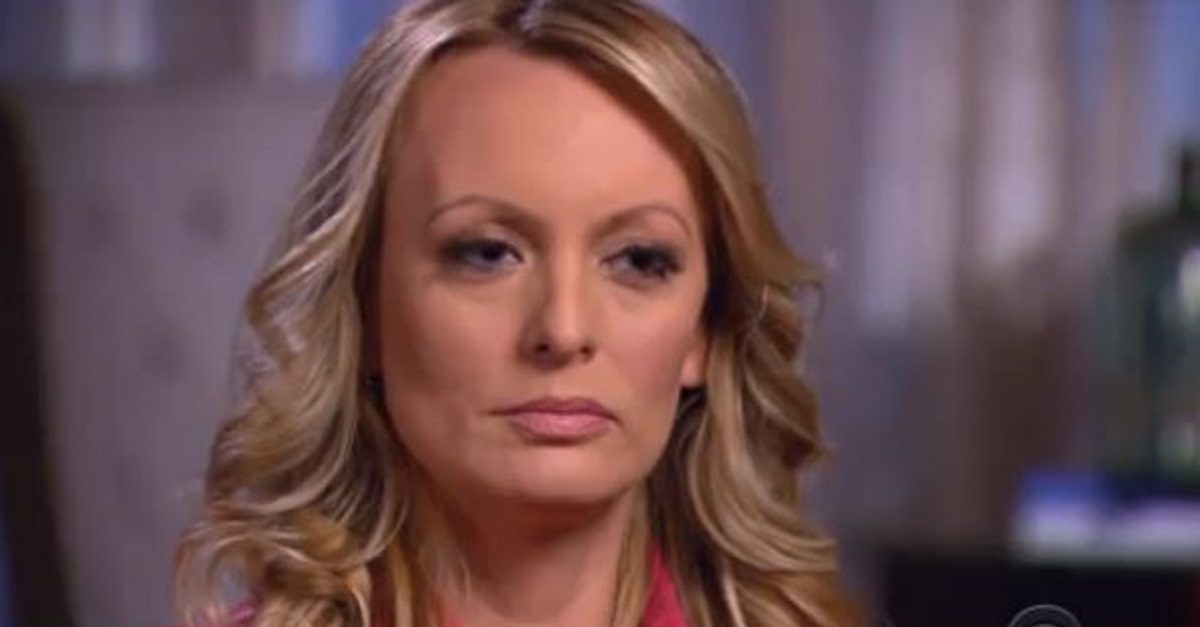 A massive New Yorker report on the ongoing and evolving relationship between Fox News and President Donald Trump included details of an incident where one of their reporters had uncovered evidence of the alleged affair between Trump and Stormy Daniels and the subsequent hush agreement, only for the network to kill the story.
The article states that reporter Diana Falzone spent much of 2016 working on the story, and "had obtained proof that Trump had engaged in a sexual relationship in 2006 with a pornographic film actress calling herself Stormy Daniels." Falzone had also reportedly uncovered information related to the nondisclosure agreement that Daniels later signed, and how her attorney had worked with then-Trump attorney Michael Cohen.
Falzone was reportedly ready to go with this story in October 2016, but it never saw the light of day, despite having confirmation from Daniels' former manager and ex-husband, in addition to emails between Cohen and Daniels' former attorney.
After getting the run-around from different editors, Falzone's article was eventually shot down for good by Ken LaCorte, who was the head of FoxNews.com, the New Yorker reported. Lacorte is said to have told her, "Good reporting, kiddo. But Rupert [Murdoch] wants Donald Trump to win. So just let it go."
LaCorte, who is no longer with Fox News, denies this, but the New Yorker received confirmation from an anonymous colleague of Falzone's.
When Law&Crime reached out to Fox News, the network referred to previous denials that they killed a story to help Trump.  For instance, when CNN reported in Jan. 2018 that Fox News killed a story about Daniels, Fox News Digital's editor-in-chief Noah Kotch said the following:
Like many other outlets, we were working to report the story of Stephanie Clifford's account in October 2016 about then-Presidential candidate Donald Trump and a possible payment by Trump lawyer Michael Cohen. In doing our due diligence, we were unable to verify all of the facts and publish a story.
Additionally, LaCorte also addressed this at the time, telling Law&Crime's sister site Mediaite that the decision not to run the story was his, not higher-ups', and that he made the call because the story didn't meet editorial standards.
"I didn't do it to protect Donald Trump. Even though we had a story written, it was nowhere near being something that would have passed muster," LaCorte said.
The following January, Falzone was reportedly demoted without being given a reason and then sued the network. That matter eventually concluded with a settlement that included her signing a nondisclosure agreement. She is no longer with the network.
[Image via CBS screengrab]
Have a tip we should know? [email protected]