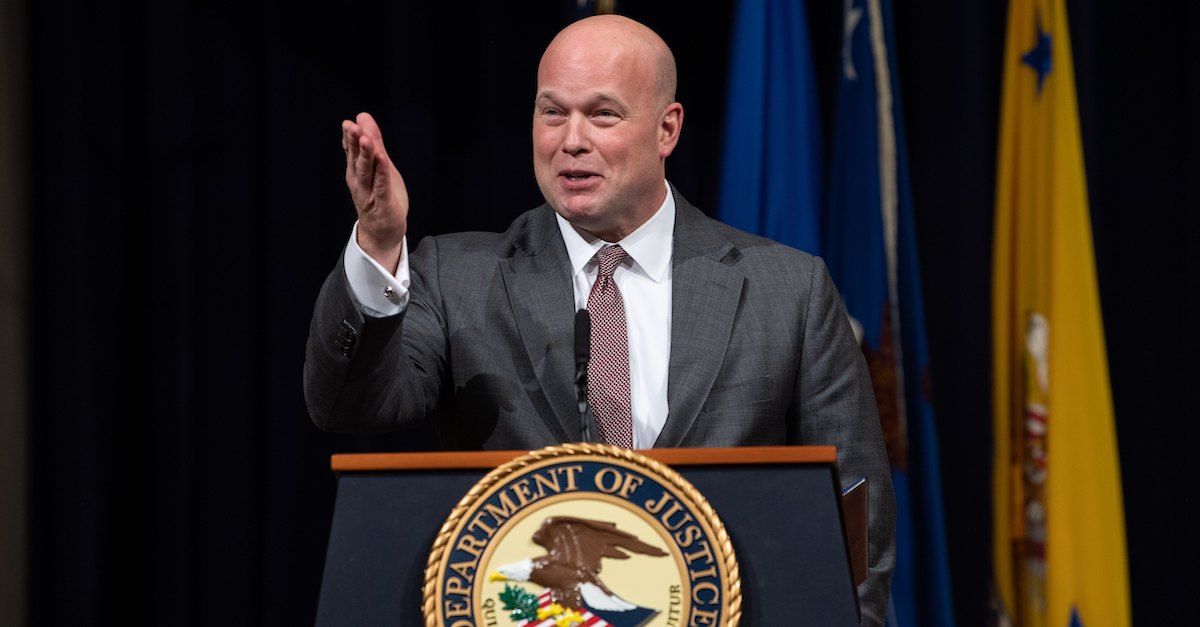 Former acting Attorney General of the United States Matthew Whitaker left the Department of Justice (DOJ) over the weekend, and it's not immediately clear why. Whitaker left the DOJ on Saturday and reportedly isn't sure about what he's going to do next.
Whitaker was an employee at the DOJ before he was controversially appointed as acting AG. He served as Jeff Sessions' chief of staff. The unceremonious departure from the DOJ is raising a simple question: Why?
It could be as simple as Whitaker seeing how the sausage is made and opting not to subject himself to the kind of scrutiny he became accustomed to during his four months under the microscope. Still, something isn't adding up here.
After all, just weeks ago it was reported that Whitaker was going to stay at the DOJ, even after William Barr took over as Attorney General of the United States. According to Politico, Whitaker shifted gears to work in the Office of the Associate Attorney General, which "oversees, among other things, the DOJ's divisions on civil rights, antitrust, tax and the environment."
The mention of "antitrust" piques interest precisely because reports are now swirling on Monday that President Donald Trump tried to pressure former National Economic Council director Gary Cohn to get the DOJ to block the AT&T-Time Warner merger to retaliate against CNN.
Interestingly enough, Whitaker became Sessions' chief of staff in Sept. 2017. The antitrust division of Sessions' DOJ sued to block the merger in Nov. 2017. This is, of course, notable when you consider that Whitaker has frequently been accused of being a hatchet man or a puppet for the president's whims.
That wasn't the only thing that came to mind, either. Recall: Whitaker's tenure as acting AG was clouded by his association with World Patent Marketing (WPM), an alleged scam firm that he worked for in an advisory role.
As recently as Nov. 2018, the FBI's criminal investigation of what happened at WPM was active.
Whitaker, for his part, has reportedly told friends that he will stay in Washington, D.C. because "[there are] many opportunities here."
[Image via Nicholas Kamm/AFP/Getty Images]
Have a tip we should know? [email protected]