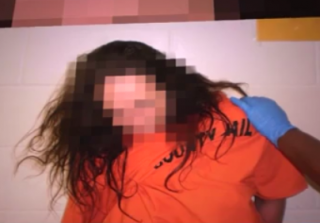 What happens when the people who are supposed to protect us betray us? What happens when the victim of a horrible crime can no longer trust the criminal justice system? Let me tell you the story of Jane Doe (she didn't want her real name public), a rape victim in Texas, who was jailed after suffering a breakdown in court while testifying against her rapist.
Doe is suing Harris County, Texas, the county Sheriff, members of the District Attorney's office, and jail employees after she was incarcerated against her will for 28 days, just so prosecutors could make sure they'd have her available to testify. According to the complaint, when Doe broke down in the middle of the trial on December 8, 2015, she was taken to a hospital for treatment. The judge ordered a recess until January 11, 2016.
Doe's complaint says that the DA's office has a "Victim-Witness Division" that normally provides aid to rape victims who testify against their attackers, but the division's employees were going on vacation during the holiday break. While Doe was being treated, prosecutors allegedly obtained her medical records illegally, so they could find out when she would be discharged from the hospital, and they sent an investigator to arrest her and bring her to jail that day. Apparently, the prosecutors were nervous she would run away.
Doe suffers from from bipolar disorder and symptoms of schizophrenia, and the investigator allegedly told Doe's mother that she was being taken to a mental health facility, not jail. Instead, according to the complaint, she was placed in the general population of Harris County Jail.
But the story only gets so much worse from here. When Doe was booked in jail, the lawsuit alleges a Sheriff's office employee entered her into the system as a defendant in a sexual assault case instead of a victim or witness. What's more, Medical staff reportedly insisted to her that she was there because she was charged with a sex crime, not a victim of one. Her attorney, Sean Buckley, told LawNewz.com that Doe's medical records had notes that there were issues with her mental orientation because they thought she was confused.
In her day to day life in jail, the complaint says, Doe had to share living quarters with other inmates, and go to the bathroom in front of other people, both inmates and jail staff. At one point, she got into a physical altercation with a cell mate who allegedly slammed her head into the concrete floor multiple times.
And then the week before Doe finally got out, the worst happened. The complaint says that on January 8, 2016, Doe suffered an "acute psychiatric episode," that resulted in a fight with jail staff. One guard admitted to punching her in the face, but Doe ended up being charged for assault. Prosecutors eventually dismissed the case after Doe was out of jail.
Three days later, the rape trial resumed and Doe testified. Three days after that, she was let out of jail. The rapist was convicted and sentenced to two life sentences.
Jailing witnesses to make sure they testify is a real thing that Texas law allows for in certain situations, but Buckley says this isn't one of them. The law says that a witness can be jailed if they either live in the same county as the case and they're about to move away, or if they were subpoenaed to testify and they disobeyed the order. Buckley told LawNewz.com that his client wasn't living in Harris County and that she was never issued a subpoena. He said the judge in the case approved it anyway, but there's nothing on the record to explain why.
Buckley acknowledged that Doe, who  suffers from Bipolar disorder and has symptoms of schizophrenia, got very upset during the testimony that she said she wouldn't come back to court. But, is that really justification to jail her? On top of that, there was no indication that she did not intend to eventually testify once she calmed down.
What kind of prosecutor does this in the first place? How can someone possibly think it's even close to acceptable to jail a rape victim for a month? And why, because she was needed to testify? Who are they fighting for anyway? The prosecutor was clearly so wrapped up in his case, so obsessed with getting a win, that he forgot who he was fighting for in the first place. True, prosecutors don't represent the victim, they represent the people of the state. But Jane Doe was one of those people. And this prosecutor failed her, even if they did get their conviction. A prosecutor's job isn't to get a conviction. It's to achieve justice.
The DA's office didn't respond to my request for a comment on the case, and the Sheriff's office simply passed the blame. A statement from the Harris County Sheriff's Office obtained by LawNewz.com said that they had to jail Jane Doe, because "the Sheriff's Office had no authority but to follow the court's order to detain [her]." As far as placing her in the general population, and not the Mental Health Unit? They said:
No order to isolate Jane Doe was issued in the Court's order to the Harris County Sheriff's Office.  Had an order to "keep separate" been issued, Doe would have been housed in a separation cell in accordance with the Court's order.
This seems to be the case across the board, Buckley told me. "There seems to be some resistance among the county officials to accept responsibility," he said. "That is surprising to me."
Jane Doe v Harris County Complaint
Update 7/22/16 4:57pm: Harris County District Attorney Devon Anderson released a video statement defending her office's actions in this case. That story, with my reaction, can be found here.
Have a tip we should know? [email protected]