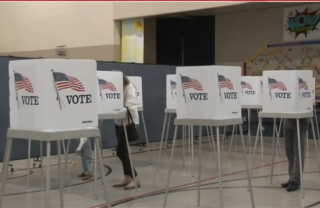 The 5th Circuit Court of Appeals has struck down a Texas Voter ID law, finding that it violates federal laws that prohibit electoral discrimination.  The law, SB-14, was passed in Texas in 2011 and has been called one of the most restrictive voting laws in the country. The 5th Circuit ruled that the law violated section 2 of the Voting Rights Act.
"We conclude that the district court did not clearly err in determining that SB 14 has a discriminatory effect on minorities' voting rights in violation of Section 2 of the Voting Rights Act. As discussed below, we remand for a consideration of the appropriate remedy in light of the impending general election," Judge Catharina Haynes wrote in the majority decision.
The court also ruled that the district should do all in its power to ensure that all people who could vote in the up coming election are able to do so.
"To avoid disruption of the upcoming election, the district court should first focus on fashioning interim relief for the discriminatory effect violation in the months leading up to the November general election. The district court should then reevaluate the evidence relevant to discriminatory intent and determine anew whether the Legislature acted with a discriminatory intent in enacting SB 14," Haynes wrote.
Under this law, Texas required citizens to show one of only seven forms of ID, which was significantly more stringent than voter laws in other states. Critics have said that the law is unnecessarily discriminatory against black and hispanic people. Texas Attorney General Ken Paxton expressed his disapproval with a decision  in a statement obtained by Lawnewz.
"It is imperative that the State government safeguards our elections and ensures the integrity of our democratic process. Preventing voter fraud is essential to accurately reflecting the will of Texas voters during elections, and it is unfortunate that this common-sense law, providing protections against fraud, was not upheld in its entirety."
You can read the entire decision below:
Decision 5th Circuit Court of Appeals by LawNewz on Scribd
Have a tip we should know? [email protected]