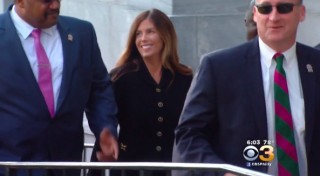 Former Attorney General Kathleen Kane, once the rising star of the Democratic Party in Pennsylvania, was dealt a devastating blow Monday night. Kane, 50, was convicted of nine criminal charges including perjury and criminal conspiracy for leaking grand jury information about her Republican opponent, and then lying about it.  She was forced to resign this afternoon. Her defense team is still reeling over the decision, but they pledge to appeal. Kane has long contended that she is a victim of selective and vindictive prosecution. She was accused of leaking grand jury information to The Philadelphia Daily News about a former leader of the NAACP whom her opponent chose not to prosecute.
Kane contends that the prosecution is retaliation for her exposing the "old-boys network" that was ripe in Pennsylvania government. The network that she exposed included pornographic and derogatory emails that led to the dismissal of two state Supreme Court justices and others. The back and forth between Kane and her opponents can fill lengthy articles.  But the bottom line is, as I see it, Kane did what many politicians have done over the decades: she leaked confidential information to reporters. Only this time, she got caught. Her next mistake: She did a lousy job of trying to cover her tracks and got caught lying. What she did is clearly illegal, and there is no denying, as a prosecutor, she should have known better. Her opponents, and even her fellow Democrats, have condemned her actions and called for her resignation.  But, I also think it is worth putting what she did in perspective and clearing the air of any pot-calling-the-kettle black that may be going on here.
Prosecutor John M. Morganelli, who ran for attorney general in Pennsylvania, put it succinctly to The New York Times. He said grand jury leaks are practically a league sport in Pennsylvania.  Indeed, they are somewhat common in the world of investigative journalism.  They've been the primary source for many an explosive story from our nation's leading media outlets.  So much so, The Reporters Committee for Freedom of the Press even put out guidance to journalists on how to deal with them. Most recently, a series of Grand Jury leaks  over the death of Michael Brown sparked protests. For better or worse, those leaks were no doubt politically motivated and fanned the outrage in Ferguson, Missouri. No one was ever prosecuted for passing on that confidential information. In fact, to my knowledge, there was never even an investigation. The truth is, without leaks we would never get good information. Perceived wrongs would never be exposed.
Even the coverage of Kane's case has been rife with leak after leak.  For example, back in January of 2015,  The Philadelphia Inquirer was leaked information that a different Grand Jury was investigating Kathleen Kane for leaking information about secret Grand Jury proceeding!  An excellent article in the Pennsylvania blog, Billy Penn, details the many times reporters were leaked confidential Grand Jury information in the State:
In 2007, several months before a grand jury recommended charges against casino magnate Louis DeNaples, media reported he was being investigated by a grand jury. In 2011, about six months before charges against Jerry Sandusky were announced, the Harrisburg Patriot-Newsreported the former Penn State football coach was being investigated, citing five sources.

Both of those leaks were investigated by special prosecutors. Neither investigation led to charges against anyone.
Kane's naysayers are painting her to be some kind of villain on a war path to destroy her enemies. In the best light, she was a public servant trying to expose a wrong. At worst, she was a politician who went too far trying to trash her opponent.  Yes, the fact is she broke the law. Kane knew full well that she was risking legal trouble when she set up a scheme with her confidante to deliver documents in a folder to a reporter . For whatever reason, she though it was a risk worth taking. She should be held responsible for her actions. But, as politicians call for her head, they might want at examine their own actions more closely over the years, and also take a look at the bigger picture. What would remain forever secret if public officials like Kane didn't spill the beans?
This is an opinion piece. The views expressed in this article are those of just the author.
Rachel Stockman - President / On Air Host