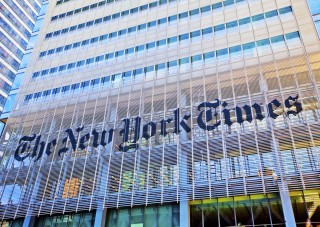 Advocates for child sex abuse survivors, including Matthew Sandusky, son of Jerry Sandsuky, and activist Phil Saviano, who was portrayed in the movie Spotlight, signed an open letter to New York Times Public Editor Liz Spayd last week, asking why the newspaper had not covered recent legislative battles surrounding the New York Child Victims Act (CVA). The real story, however, might be that they're not the only ones. The CVA aims to eliminate statutes of limitation for child sex abuse survivors seeking to bring criminal or civil actions against abusers.
The letter was published by Nancy Levine, who had previously asked Times Executive Editor Dean Baquet why the publication had not run articles about New York Governor Andrew Cuomo announcing his support for the CVA, or protesters marching on the Brooklyn Bridge supporting the Act. In her correspondence with Baquet, and in the open letter to Spayd, Levine brought up what she referred to as "an appearance of a conflict of interest." She noted that Whole Foods co-founder John Mackey has been an open supporter of religious leader Marc Gafni, who has been accused of child sex abuse in the past, and that Gabrielle Greene Sulzberger, wife of the Times' publisher, is on the Board of Directors for Whole Foods. In a posting on Medium.com Levine alleged that perhaps there was a connection. She wrote that the newspaper reported about the opening of a new Whole Foods store, but not about protests against Whole Foods due to Mackey's support of Gafni. The protests had been covered by outlets including the Washington Post and the Huffington Post.
According to Levine's post, Baquet responded to the implications of a possible conflict of interest by saying, "Only someone quite paranoid would see such a connection." Levine does acknowledge that it was the Times, after all, who reported on the Mackey-Gafni connection back in December. That article was a profile on Gafni that discussed, among other things, numerous allegations against him.
The Whole Foods connection indeed seems like a stretch for not covering the Child Victims Act. After all, the newspaper continues to report on child sex abuse cases, including an article just this month about the Indianapolis Star's report on abuse within USA Gymnastics. But that still doesn't explain why Levine can't get a straight answer.
Regarding the open letter to Spayd, the Times Public Editor's office responded by saying:
The public editor is aware of your concerns, and we will be sure to monitor this; however, as I've mentioned to you before, our office is not responsible for The Times's coverage decisions. I have shared your email with a ranking metro editor as feedback.
NY Times Responds to Open Letter from Survivors of Child Sexual Abuse and Advocacy Leaders #SpotlightNYT #ChildAbuse https://t.co/H86zlCpRuD

— Nancy Levine (@nancylevine) August 16, 2016

The most recent news story (not counting opinion pieces or letters to the editor) that the Times published about the CVA was in August 2009. I spoke to Levine, and she said that she's confused as to why the Times hasn't covered the topic in recent years and why they won't give her a reason for it. "It's all a little baffling," she said. "Presumably there's no conflict of interest," she said, but wondered that if that's they case, why won't they at least give a journalistic reason. "All we want them to do is give a reasonable response, which hasn't happened yet." I reached out to Baquet for comment, but he has yet to respond.
But the Times isn't the only newspaper who hasn't covered the CVA. In fact, they're not even the only New York newspaper who hasn't reported on it lately. A search of the New York Post's website shows that they haven't reported on it at all in the past year. The New York Daily News, on the other hand, has covered the CVA extensively, with multiple articles this summer.
The Jewish publication The Forward, based in New York, published an article about it in May, as did the Huffington Post. Albany's WRGB covered it earlier this month. But I couldn't find anything from other television stations or major newspapers.
So clearly, the New York Times is not alone is determining that a bill looking to protect child sex abuse survivors isn't newsworthy. Maybe that's the real problem.
This is an opinion piece. The views expressed in this article are those of just the author.