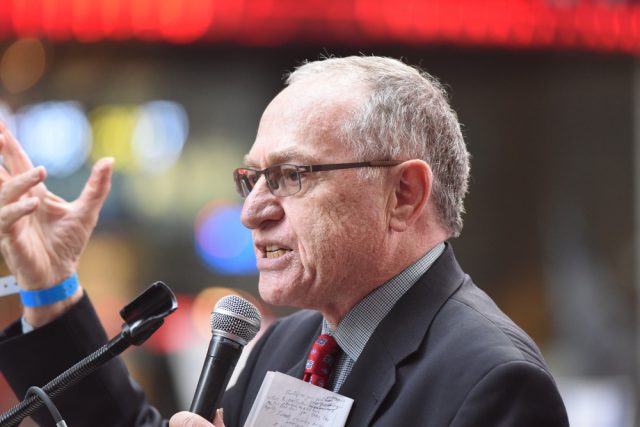 Harvard Law Professor Alan Dershowitz told LawNewz.com that he has sent a letter threatening potential legal action to the provost at UC Berkeley over the university's "discriminatory" policy for on-campus speakers. He believes the rules unfairly discriminate against conservatives or even those not on the "way hard left."
Dershowitz said that the university originally prevented him from speaking on Israel because he did not give the school eight-week notice as a "high-profile" speaker. He says the school waives the requirement for high-profile individuals invited to speak by the University's departments (as opposed to student groups). Here's the problem: According to Dershowitz, the departments at Berkeley are notoriously very liberal, and don't regularly invite a diversity of political views to speak.
"If a pro-jihadi terrorist wants to speak, the Near Eastern Studies Department invites them and they can," Dershowitz said. "But if a peace loving two-state solution advocate like myself with a 50-year academic history wants to speak, I have to eight weeks."
Dershowitz believes this could amount to "content-based" discrimination.
"Departments shouldn't have politics. They should be academics. These departments are highly political," Dershowitz said.
"Content-based" discrimination is when a government entity (like a public university) restricts the exercise of free speech based upon what the speech is about. UCLA Law Professor Eugene Volokh explains:
 If the restriction treats speech differently based on the viewpoint or subject matter of the speech, on the words the speech contains, or on the facts it conveys, the restriction is based on the content (and the communicative impact) of speech. Classic examples: Bans on advocacy of illegal conduct (Brandenburg v. Ohio), on sexually explicit speech (Miller v. California), on all residential picketing except labor picketing (Carey v. Brown), on profanity (Cohen v. California), or on the publication of the names of rape victims (Florida Star v. B.J.F.). Some of these restrictions may be viewpoint-neutral, but they're all content-based.
Because the Departments that generally invite speakers on Israel are pro-Palestinian, Dershowitz argues they are discriminating against him.
"The end result? All the departments are all hard left departments, they are much more likely to invite hard left speakers that results in content-based discrimination," Dershowitz told LawNewz.com. 
Dan Mogulof,  Asst. Vice Chancellor at UC Berkeley released the followed statement to LawNewz regarding Dershowitz's threat:
It is hard to see the basis for the discrimination claim given that the policy was implemented well before he was invited to campus. Beyond that, the policy is content and perspective neutral, with the criteria that trigger the eight week advance notice requirement based solely on objective measures, such as audience size. As the policy makes clear, if a student org wants to have an event—no matter who the speaker is—with an audience larger than 199, then an eight week notice is needed. Less than 200 is a different story.
Dershowitz is planning to speak at Berkeley on Wednesday. After news spread of what happened, he got an invitation from the Dean of the UC Berkeley's Law School.
"The existing policy, by giving power to departments to pick and choose who will and will not, be subject to the 8 week rule, is discriminatory in effect if not in intent, because departments tend to sponsor anti Israel and hard left speakers, but not Pro Israel or conservative speakers," he said. "The fact that several departments sponsored Baghouti ( a non academic head of the Bds tactic) but refused to sponsor me ( an academic liberal opponent of Bds ) proves my point. The policy is NOT neutral in effect and is therefore unconstitutional."
The back and forth doesn't end there. Berkeley fired back to Dershowitz, again.
"Dershowitz sought to speak at the foremost public university in the country, and succeeded in 24 hours," Mogulof said. "As per the event listing above, there is zero proof  that 'speakers who support Israel' aren't invited to speak at Berkeley.  He say that he 'supports Israel' and was invited as soon as he sought an invitation.  Literally immediately."
This article has been updated with comment from UC Berkeley and Dershowitz. 
[image via shutterstock]
Have a tip we should know? [email protected]
Rachel Stockman - President / On Air Host