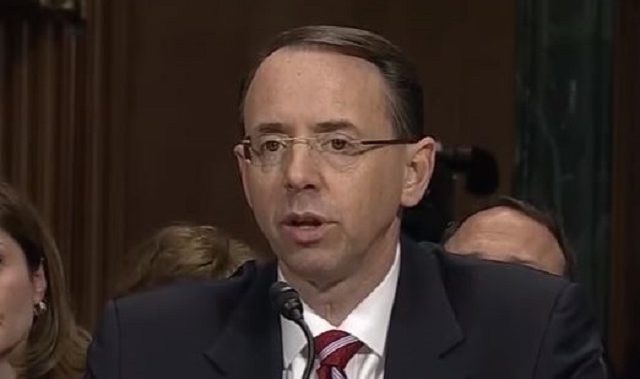 Deputy Attorney General Rod Rosenstein is scheduled to address the U.S. Senate this week to discuss the firing of now-former FBI Director James Comey, according to the office of Senate Majority Leader Mitch McConnell. A memo Rosenstein penned to President Donald Trump that discussed Comey's shortcomings during the Hillary Clinton investigation has been said to have factored into the President's decision to remove Comey from office. The President later said that he had been considering terminating Comey for months, and that Rosenstein's memo did not determine Comey's fate.
NEW: Deputy AG Rosenstein will lead an all-Senators briefing regarding the removal of former FBI Director Comey on May 18th at 2:30 P.M. pic.twitter.com/tA0zVUA4fo

— ABC News (@ABC) May 15, 2017
A spokesperson for Senator McConnell said that Rosenstein accepted McConnell's invitation to address all Senators. The briefing is set for Thursday at 2:30 pm ET. Rosenstein is expected to discuss the circumstances surrounding Comey's firing.
It is likely that Democratic Senators will ask Rosenstein what the Department of Justice plans to do regarding the ongoing investigation of Russia's influence on November's election and possible connections to the Trump campaign. Democrats are calling for an independent special prosecutor to take the reigns of the probe. Senate Minority Leader Chuck Schumer indicated over the weekend that he intends to oppose any nomination for the vacant FBI Director position unless a special prosecutor is appointed.
[Image via screengrab]
Have a tip we should know? [email protected]