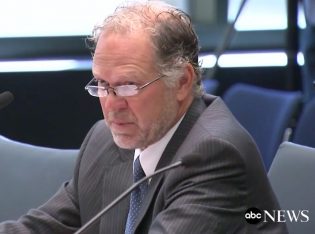 A man who claims he was a victim of sexual abuse in his teens by disgraced former Speaker of the House Dennis Hastert is now asking legislators in Illinois to change the statute of limitations on sex crimes.
Scott Cross claims he was sexually abused by Hastert when he was 17-years-old. ABC News reports Cross testified before Illinois lawmakers on Tuesday, asking them to change the statute of limitations to ensure a "monster" like Hastert is never allowed to be let off the hook for sex crimes again.
"Hastert inflicted unbelievable pain on the lives of the youth he was entrusted to care for, yet he got a slap on the wrist… As hard as is is to continue to live through the events of the past, the laws of Illinois and across the country have to change," Cross testified, according to ABC News.
The statute of limitations in Illinois for sex crimes against minors generally runs out 20 years after an alleged victim's 18th birthday. Cross is now asking legislators to reconsider whether a statute of limitations is appropriate in sex abuse cases.
"It should offend everyone's faith in the judicial system that Illinois laws today would still allow sexual child molesters to avoid prosecution from heinous acts of sexual abuse because a survivor didn't come forward in time," Cross said during his testimony.
He added, "[Sexual predators] know no bounds, have no decency and are devoid of morals. That's why Illinois General Assembly should provide sexual predators no safe harbor based on the law based on arbitrary deadlines established by the stroke of a pen."
However, critics say removing the statute of limitations would likely be unconstitutional. In fact, a prominent Chicago defense lawyer told the news outlet the existing 20-year statute of limitations may already be unconstitutional.
"I personally find the long statute of limitations unconstitutional in that it violates equal protection of the law and due process law both found in the 14th Amendment," defense attorney Michael Ettinger explained. "How does anyone defend themselves against an allegation of misconduct 20-plus years ago? Put an alibi defense together 20 years later? Statutes of limitations are enacted for that very reason."
Have a tip we should know? [email protected]