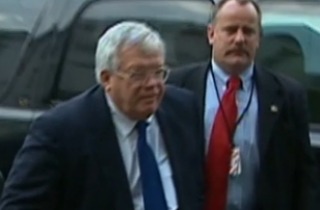 In new court papers, disgraced former Speaker of the House Dennis Hastert is arguing that he shouldn't have to pay all of the hush money he promised to a man he allegedly molested in the 1970s, The Chicago Tribune reports.
In April, Hastert was sentenced to 15 months in prison for hiding hush money payments to the man who filed his lawsuit as "James Doe" (he was referred to as "Individual A" during Hastert's criminal prosecution). According to the filings, he filed anonymously to avoid "great psychological damage to him in the form of shame and embarrassment."
Over the course of a four year period starting in 2010, Hastert paid Doe $1.7 million of a promised $3.5 million, and now Doe is asking for the remaining $1.8 million plus interest. Hastert stopped the payments in 2014 when FBI agents first questioned him about the suspicious withdrawals being made from his bank accounts, which got the ball rolling on his eventual criminal charges. Hastert admitted to molesting the man, then a 14 year old boy, as part of his plea bargain, which led to more accusers coming forward.
In a response to the new lawsuit that Hastert's lawyer, John Ellis, made the following arguments as to why the oral agreement between Hastert and Doe was unenforceable:
Doe waited decades to confront Hastert, and according to the statute of limitations, he would have had to file a lawsuit by 1985. Laws extending the statute of limitations in cases involving sexual abuse were not enacted until 1991.
Doe breached the deal by speaking to law enforcement.
Contracts involving payment plans that last more than a year must be written, not oral.
"Plaintiff describes the alleged contract not as one to sell his silence but, rather, as a 'settlement agreement' that included a confidentiality provision," Ellis wrote in the response. "This is just careful drafting. From the face of his own complaint, it is clear that confidentiality was not merely ancillary to the alleged contract but, instead, a focal point."
Doe's lawyer, Kristi Browne, issued this statement to the media in response on Monday:
Despite the conclusion of the FBI agents involved in the investigation and the prosecuting attorney in the criminal case, Mr. Hastert's counsel characterizes the agreement between his client and ours as an agreement to sell silence. This issue has been investigated thoroughly and the FBI and prosecutors have already concluded that Mr. Doe, the victim of Dennis Hastert's abuse, did nothing improper.
Have a tip we should know? [email protected]