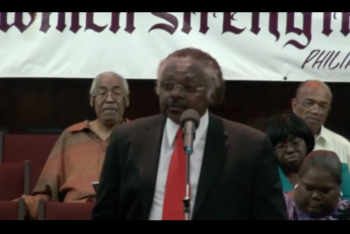 American Atheists Inc. has filed a lawsuit against Kansas City, MO and several government officials over the planned use of tax dollars to promote a Baptist convention that will be held in the city later this year.
The Kansas City Star reports the atheist group filed the federal lawsuit on Friday over the City Council's decision to provide $65,000 from the Neighborhood Tourist Development Fund to a group that will promote the National Baptist Convention USA Inc., which meets in Kansas City in September.
Two local members of the atheist organization, Eric Abney and Joshua Stewart, are named as plaintiffs in the lawsuit that asks the court to enjoin the city from spending the money because it benefits a religious organization.
The lawsuit states:
Plaintiffs pray this Court grant the requested relief barring the unconstitutional payment to Modest Miles Ministries because Defendants authorized the grant for the sole purpose of providing indirect aid and support to a pervasively sectarian organization comprised of member Baptist churches and church auxiliaries for its local religious event. Defendants' grant of municipal taxpayer monies for religious purposes demonstrates municipal preference for the Baptists over no religion and preferential treatment of the Baptists over the Lutherans by officials under color of state law with respect to neutral public benefit programs in Missouri.
The money is slated to go to the Modest Miles Ministries Inc., which the report says is affiliated with  Rev. John Modest Miles and his Morning Star Missionary Baptist Church.  However, Rev. Miles said the Baptist convention has been held in Kansas City three times since 1998 and each time the Modest Miles Ministries, Inc. received money from the city to cover transportation expenses.  Furthermore, Kansas City spokesman Chris Hernandez told the newspaper that the Modest Miles Ministries, Inc. is a non-profit organization set up to do secular work in the community.  Hernandez also stressed that the contract to pay out the money makes it clear that the funds are to be used for a secular purpose.
READ the lawsuit:
American Atheists Inc. Lawsuit
[Rev. John Modest Miles image via screengrab]
Have a tip we should know? [email protected]