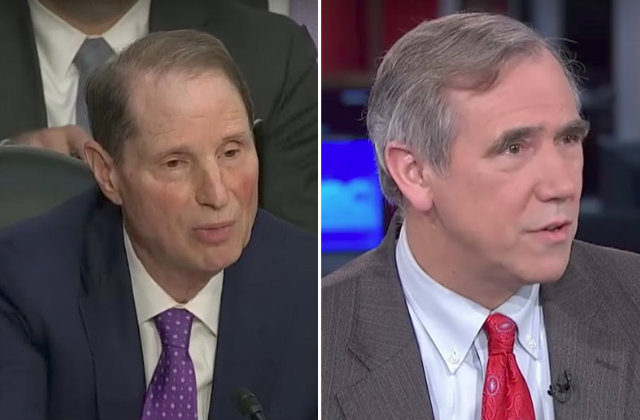 Another court fight gears up as the Senate tries to fill a judge's seat. President Donald Trump just tapped Ryan Bounds, an Assistant U.S. Attorney in Oregon, to replace Diarmuid F. O'Scannlain on the 9th Circuit Court of Appeals. Usually, lower court nomination tend to be a nice bit of bipartisanship. Per tradition, a confirmation hearing only goes forward if the nominee's home state senators return a "blue slip" recommending the person. That didn't happen this time.
In a letter dated Thursday and addressed to White House Counsel Don McGahn, both of Oregon's Democratic Senators Ron Wyden and Jeff Merkley said no, they wouldn't recommend Bounds. That's because a local bipartisan selection committee didn't approve him.
"Unfortunately, it is now apparent that you never intended to allow our longstanding process to play out," they wrote. "Instead, you have demonstrated that you were only interested in our input if we were willing to preapprove your preferred nominee. Disregarding this Oregon tradition returns us to the days of nepotism and patronage that harmed our courts and placed unfit judges on the bench."
LawNewz reached out to the White House for comment. Both Wyden and Merkley voted against the confirmation of Supreme Court Justice Neil Gorsuch.
It will be interesting to see how this play out. "Blue slips" aren't a requirement, but they are a long-standing tradition. Republicans and Democrats have been struggling over the rule for months, with some GOPers saying they'd get rid of it.
[h/t Portland Tribune; Screengrab of Wyden via Fox 10 Phoenix, screengrab of Merkley via MSNBC]
Have a tip we should know? [email protected]