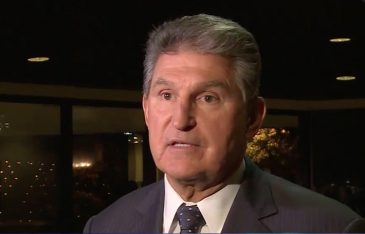 Democratic Senator Joe Manchin left no doubt where he stands on the issue of burning the United States flag and the First Amendment.
Bridget Bowman, a Senate reporter for Roll Call, sent out a tweet on Tuesday afternoon after Sen. Manchin addressed the matter.
Dem. Sen. Joe Manchin on flag burning: "It's a first amendment right but you do it in front of me, I'm going to beat the hell out of you"

— Bridget Bowman (@bridgetbhc) November 29, 2016
The matter of burning the flag became a national issue again President-Elect Donald Trump tweeted out his desire to see people jailed or possibly even lose citizenship for burning the flag.
Nobody should be allowed to burn the American flag – if they do, there must be consequences – perhaps loss of citizenship or year in jail!

— Donald J. Trump (@realDonaldTrump) November 29, 2016
Sen. Manchin is up for reelection in 2018 in the generally Republican state of West Virginia and some have already started speculating that he may switch over to the GOP.  Although, Manchin has denied reports that he plans to change parties.
[image via screengrab]
Have a tip we should know? [email protected]