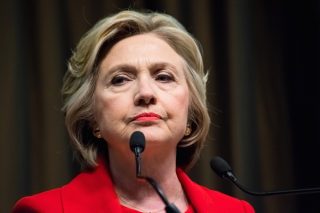 Hillary Clinton's attorney filed a motion Tuesday seeking to join the lawsuit filed by Jill Stein in Wisconsin.   According to Dane County court records, Hillary Clinton is now listed as an "intervenor" in the case. The lawsuit was originally filed on Monday by Stein after the Wisconsin Elections Commission declined to require that county leaders undergo the recount of votes by hand. Instead, the Elections Commission said that the recount would move forward but each county would decide themselves whether to proceed by hand or through an electronic method.  So far, Donald Trump has not filed a similar motion to join the case.
"We must recount the votes so we can build trust in our election system," Stein said in a statement.
Attorneys for Clinton also filed a memo supporting a hand recount because they said that the method will ensure the most accurate results, according to local reports.
Donald Trump won Wisconsin, beating Hillary Clinton by about 22,000 votes.  The recount is expected to begin Thursday and each county will decide on their own to conduct the recount electronically or by hand unless Stein wins the lawsuit.  Stein must also meet the deadline of paying the $3.5 million cost for the recount. She has indicated she has raised funds through an online donation campaign.
The motion to be part of the Stein lawsuit seems to be a bit of a change of tactics by the Clinton camp. Over the weekend, the Clinton campaign's general counsel Marc Elias penned a blog post in which he explained how after the shocking Election Day loss, the Clinton campaign received hundreds of calls to "investigate claims that the election results were hacked and altered in a way to disadvantage Secretary Clinton." He further explained the exhaustive measures the campaign undertook to investigate these allegations, before ultimately concluding they "had not uncovered any actionable evidence of hacking or outside attempts to alter the voting technology." Instead, he said they planned to monitor the recount and participate in order to "ensure the process proceeds in a manner that is fair to all sides."
A hearing is scheduled for Tuesday afternoon at 4:30 pm in Dane County. Stein is seeking declaratory relief from the judge. The recount must be certified by December 13, 2015 in order to guarantee that Wisconsin's electoral college votes are counted.
LawNewz.com has reached out to Clinton's attorney for more information on this case, and will update this story accordingly.
Chris White contributed to this report. 
Have a tip we should know? [email protected]
Rachel Stockman - President / On Air Host