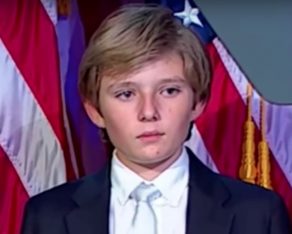 First Lady-elect Melania Trump's legal threat over a YouTube video suggesting her son, Barron Trump, was autistic seems to have paid off.
Trump's attorney, Charles Harder, sent a statement to LawNewz.com on Monday that confirmed his client had asked for the video to be removed and demanded an apology from the person who posted it. On Tuesday afternoon, Harder sent an update informing LawNewz.com that the video had been removed and an apology was issued.
WATCH Apology Video:
"This law firm represents First Lady-elect Melania Trump and her 10-year-old son, Barron Trump. A video was posted at YouTube recently speculating that Barron might be autistic. He is not," Harder said in the statement on Monday.
"The video includes the hashtag 'StopTheBullying' but yet the video itself is bullying by making false statements and speculation about a 10-year old boy for the purpose of harassing him and his parents. The online bullying of children, including Barron Trump, should end now."
The youtube poster, James Hunter, released a statement to our sister site, Gossip Cop, on Monday evening that said that he was on the autism spectrum himself, was trying to raise awareness and never meant to bully Barron.
"I'm honestly kinda scared right now. The only reason I made the video is because I saw how much social media was bullying Barron Trump, and I wanted it to stop. I'd be really sad if I've made the situation worse, but I never could've imagined that the video would get so much press," Hunter said.
[image via screengrab]
This is a breaking story that will be updated with more information as it becomes available. 
Rachel Stockman contributed to this report. 
Have a tip we should know? [email protected]