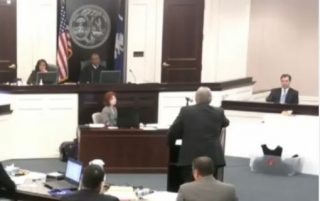 Michael Slager, the white South Carolina police officer who shot a black driver running away, is in the middle of his murder trial. On Tuesday, Slager took the stand and testified in his own defense. He did his best to convince the jury that he acted properly when he shot and killed Walter Scott. Slager testified that he doesn't remember all of the details of the physical altercation that took place between him and Scott, but said that Scott took his Taser during the struggle.
In cases such as this, when there's no question as to whether Slager committed the act, the case hinges on the circumstances surrounding the act and whether the shooter acted reasonably at the time.
But what exactly does that mean? There are different standards that might apply, depending on the legal instructions that Judge Clifton Newman gives the jury at the conclusion of testimony. As Andrew Knapp of The Post and Courier pointed out, it's unclear what standard should apply to Slager's case. There is a South Carolina state court case, Sheppard v. State, which says that "An officer may use whatever force is necessary to effect the arrest of a felon, including deadly force." That would certainly seem to lean in Slager's favor, but there are other legal standards that might apply.
A common legal standard is the "reasonable person" standard, which often comes into play in self-defense cases. Because Slager shot and killed Scott after a physical struggle, this could come into play. But even that standard has its own different ways of being applied. On the one hand, the jury could be instructed to decide whether Slager acted as a reasonable police officer would, with the knowledge and experience that would inform an officer's behavior in Slager's situation. On the other hand, they could be told to apply the standard of a reasonable regular person, which would allow them to think about the case based on how they themselves might react, as opposed to how a trained officer would.
Legal issues and decisions like this made by a trial court judge are ripe for appeal, too. The law that Judge Newman ultimately instructs the jury to apply could very well be fought at the appellate level, and if an appeals judge happens to have a different viewpoint than Newman, the decision could be thrown out. Of course, that's all if the jury can even reach a verdict. If they can't reach a unanimous decision, the case could start over again from the beginning, and these legal questions would still be waiting at the conclusion of a new trial.
[Image via screengrab]
Have a tip we should know? [email protected]