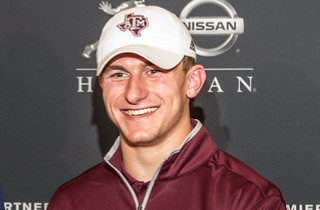 The life of NFL free agent and former Cleveland Brown Johnny Manziel just got more complicated. As of Monday, he's being sued by a bar employee who alleges that the quarterback punched him in the face, breaking his nose in the process, Eric Newton, the plaintiff, claims that the attack stemmed from him refusing Manziel a drink around 2:00 a.m.
According to the complaint, Manziel was attending a private party upstairs at the  New York bar in Austin, Texas on September 6th. Newton was working as a barback, which the complaint describes as "assisting the bartenders in filling orders, cleaning up, and stocking and restocking supplies." At about 2:00 a.m,, it's alleged that "Mr. Manziel demanded that Mr. Newton prepare several drink orders, which Mr. Newton could not do, as he was not an actual bartender." Newton says he made the suggestion that Manziel or someone else in his party go downstairs, where the bar was still up and running.
Shortly thereafter, Newton says he was downstairs talking to a customer who asked him what he thought of Manziel. The complaint says that "Mr. Newton gave his opinion to the customer," but not exactly what that opinion was. Unfortunately for Newton, "That conversation was overheard by someone in Mr. Manziel's group, who immediately ran upstairs and told Mr. Manziel what had transpired." You can guess what Newton is saying happened next: "About a minute or so later, Mr. Manziel came downstairs, ran behind the bar, cursed at Mr. Newton, and punched him in the face, breaking Mr. Newton's nose." Newton says he then wrestled Manziel to the ground, only for him to get up and run out the staff entrance/exit before police showed up.
According to Sports Illustrated, who was unable to reach Manziel's lawyer for comment, "Johnny Football" will be in a Dallas criminal courtroom on Thursday, at which time misdemeanor assault charges against him are expected to be dismissed. The charges stemmed from his ex-girlfriend accusing him him of kidnapping, beating, and threatening to kill her.
[Photo: Shutterstock]
Have a tip we should know? [email protected]