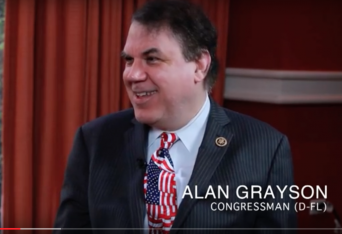 The ex-wife of Florida Democratic Congressman Alan Grayson claims that she was repeatedly physically abused by her ex-husband over the course of their 25-year marriage, according to a new report.  Lolita Grayson provided Politico with police reports and medical data dating back to 1994 that show she called the police on the Florida lawmaker at least four times, seeking medical attention on two occasions.
Lolita Grayson told the news outlet that she decided to release the emails "so [people] know what kind of man Alan Grayson really is."  She added, "I requested the medical records and police records so people could read what doctors and police officers wrote. I read many of these records for the first time. These are very painful memories and horrible experiences."
The documents are troubling to read and make absolutely devastating allegations against Congressman Grayson. Perhaps the most shocking allegation is found in a police report from 2005, in which Lolita Grayson told police that her husband became upset after a babysitter decided not to return to the home. She claimed he hit her on the back of the head and threatened her, saying, "I'll kill you, bitch."  The officer wrote in his report that he saw bruising on Mrs. Grayson's body and stated that he planned to file a complaint with the Florida state's attorney office.
However, no charges were ultimately filed in the 2005 incident.  In fact, no charges were filed against the congressman in any of the incidents, something his lawyer was quick to point out in a statement to Politico.
"Lolita is a disturbed woman. She has made one false allegation after another. Her own daughter refutes her," Congressman Grayson's attorney, Mark NeJame, reportedly said. "Moreover, there never has been a witness or any proof whatsoever of her claims.  The claims have been so ridiculous that not one time has there even been enough probable cause to bring a charge or an arrest against Alan Grayson."
When confronted by a reporter today about the claims of abuse, Grayson apparently lost his temper and threatened to have the reporter arrested.
WATCH:
Alan Grayson showed up at a Politico event in Philly…and then threatened to get a Politico reporter arrested pic.twitter.com/COUQX9GQss

— Patrick Caldwell (@patcaldwell) July 26, 2016
Congressman Grayson is one of the more controversial members of House of Representatives.  He is known for making inflammatory statements on the House floor, including a statement during the 2009 healthcare debates that "Republicans want you to die quickly."  Grayson recently announced plans to run for the Senate seat currently held by Marco Rubio, rather than running for a 4th-term in Congress. He married his new wife, Dena Minning, this past May and she is reportedly running for his old congressional seat.
[image via screengrab]
Have a tip we should know? [email protected]