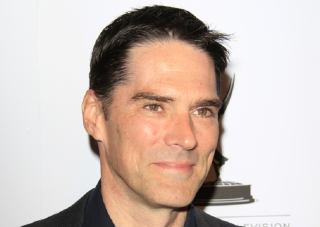 Actor Thomas Gibson, who was fired from the show 'Criminal Minds' on Friday after he allegedly attacked a writer, has hired a law firm to potentially take legal action against producers of the show, according to The Hollywood Reporter.
Skip Miller from the firm Miller Barondess confirmed to THR that he and his partner Sasha Frid are representing Gibson and exploring possible claims against the show. They are scheduled to meet with Gibson early this week.
Gibson, who had been with the show since it began in 2005, was terminated after allegedly kicking writer/director Virgil Williams during an argument that was reportedly over creative differences regarding an episode that Williams wrote and Gibson was directing. Showrunner Erica Messer and others reportedly witnessed the incident. Sources close to the actor told THR that Gibson acted in self-defense because Williams is a trained boxer. Others said that Williams is not the aggressive type, and is smaller than Gibson.
Gibson said in a statement following his dismissal, "I had hoped to see it through to the end, but that won't be possible now. I would just like to say thank you to the writers, producers, actors, our amazing crew, and most importantly, the best fans a show could ever hope to have."
[Image via Joe Seer/Shutterstock]
Have a tip we should know? [email protected]