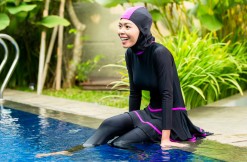 Don't expect France's burkini ban controversy to subside soon. The "burkini," a full body alternative to the bikini worn by some Muslim women on beaches, has been banned by almost 30 towns. Until now.
On Friday, the French Council of State (basically their Supreme Court) ruled that mayors can't ban the burkini. Prohibitions have been suspended. the court said the ban violated several freedoms, including the freedom of belief.
If you're confused about the fuss, here's the crash course on fashion for Muslim women: the burqa is a full body garment for daily wear; the hijab is a veil that goes on the head; and the "burkini" is just a burqa designed for beach wear. What is worn varies on an individual basis.
From this resource project sponsored by University of North Carolina Center for Global Initiatives:
Some women wear the hijab [or similar garments] because they believe that God has instructed women to wear it as a means of fulfilling His commandment for modesty. For these women, wearing hijab is a personal choice that is made after puberty and is intended to reflect one's personal devotion to God.
Got it? Good.
It's unlikely that ban many proponents will let this ruling stand. The mayor of Corcisa already insisted the town's ban will still be enforced.
France's relationship with Muslim citizens and residents has been a hot mess for years. Burqas were banned from local schools in 2004, and restrictions peaked in 2011, when it was banned nationwide.
Terror attacks have fueled anti-Muslim sentiment, too. There were the bloody attacks on the office of magazine Charlie Hebdo. ISIS terrorists, motivated by an extremist take on Islam, killed 130 people in a November attack on Paris. More recently, a man drove a truck into a crowd in the town of Nice, killing dozens. He was of a Muslim heritage, and recently radicalized.
[image via Kzenon and Shutterstock]
–
Follow Alberto Luperon on Twitter (@Alberto Luperon)
Have a tip we should know? [email protected]