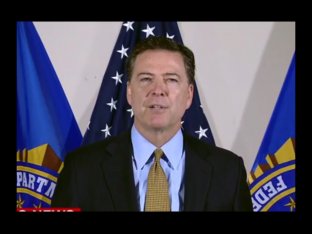 Republican Congressman Michael Turner on Wednesday hand delivered a letter to FBI Director James Comey, seeking additional information about the Bureau's procedures for releasing information to the public.  It seems the Congressman is concerned that the FBI's handling of the Hillary Clinton email investigation might lead some in the public to conclude there is some sort of policy requiring the release of information to coincide with major Federal holidays.
In a statement released on his website, Congressman Turner explained the reasoning behind his decision to write the letter:
"Despite Director Comey's assertions that the FBI's investigation of Hillary Clinton was apolitical, the Bureau continues to release information on Federal Holiday weekends.  The fact that these releases coincide with holidays and weekends raises the question of whether the FBI is playing politics in releasing information to the American public."
As for what is in the letter itself, Congressman Turner points to how essentially all of the information about the Clinton probe was released by the FBI in the days surrounding both Independence Day Weekend and Labor Day weekend.
The letter quickly closes with the Congressman asking the FBI Director to "[p]lease explain how the FBI's procedures for processing documents and information to the public coincide with these Federal holidays and how those procedures could be improved to ensure greater public awareness, and reduce the appearance of political motivations."
The message is clear: the Congressman really wants the FBI director to do more to ensure the Holiday weekend document dumps stop.
READ the full letter:
Congressman Turner to Director Comey
Have a tip we should know? [email protected]