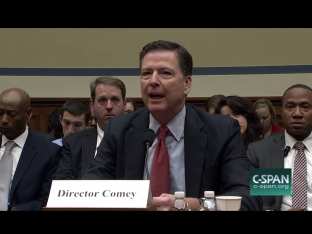 FBI Director James Comey appeared on Capitol Hill on Wednesday where he testified before the House Judiciary Committee and further discussed the Bureau's investigation into Hillary Clinton's email server.
During one exchange with Congressman Darrell Issa, Issa let out a pretty big revelation about the scope of immunity granted to Clinton aides. Issa claims it was much broader than first disclosed.  He claims that Clinton top aide Cheryl Mills also received immunity for destroying documents.
Director Comey was asked about whether the immunity agreements given out by the Department of Justice covered crimes related to the destruction of documents that were under congressional subpoena.
Previous media reports and Director Comey's own testimony have indicated the individuals who received immunity in this case were only given use immunity (which is very limited), as opposed to transactional (broad) immunity.  Use immunity is a more limited form of immunity that essentially only protects individuals from prosecution based on statements they make to investigators or  covers the production of documents or computers.  Transactional immunity is a much broader form of immunity that basically serves to protect individuals from prosecution for any conduct related to the investigation.
During the hearing, Issa initially complained that the FBI never notified Congress prior to giving immunity in this case.  Issa said his concern was that immunity agreements given out by the Department of Justice would have impacted potential crimes related to the destruction of documents that had under congressional subpoena. For that reason, Issa claimed there is a provision requiring the FBI to notify Congress before giving immunity.
Director Comey initially replied that he did not believe anyone was given transactional immunity, seemingly suggesting Issa's concerns were unwarranted in this case.  However, Congressman Issa was having none of it. That's where the bombshell came in.
WATCH:
"Oh, really?" Issa asked.
Issa continued, "Now, we are not allowed to make your immunity [agreements] public, but I am going to take the privilege of making one part of it public.  I read them.  You gave immunity from destruction to both of those attorneys."
The attorneys Issa is referring to in his remarks are Cheryl Mills and Heather Samuelson, two members of Clinton's legal team.  Issa then said he was also aware that Paul Combetta and Brian Pagliano also received immunity from destruction.
Director Comey retorted that he does not believe all of those individuals received immunity for those acts.  Issa, however, was adamant, and reiterated his earlier point that the FBI prohibited Congress from publicly releasing more information about the agreement.
So, why does this matter?
Previous media reports have indicated the above mentioned individuals had only received the more limited use immunity —  mostly to protect themselves from prosecution for statements made to investigators.
Additionally, Director Comey himself on Tuesday testified before a Senate committee hearing where he specifically addressed the immunity agreement given to top Clinton aide Cheryl Mills.
Director Comey referred to that agreement as "act of production immunity" and stressed that it only protected her from prosecution based on materials found on her laptop computer.  He specifically stated, "So, it is not personal immunity for her.  The immunity was … the Department of Justice will not use against you anything we recover from this laptop."  Director Comey never mentioned anything about immunity for destruction materials or evidence.
Yet, if what Congressman Issa is alleging is true — that Mills also was given "immunity from destruction" — then it is arguable that her immunity agreement essentially protects her from any prosecution related to this case.  In other words, while she may not have technically received transactional immunity, she did receive sufficient immunity to ensure she can never be prosecuted under the circumstances of this case.
UPDATE 2:00 p.m.:
Congressman Issa was given time at the end of the hearing on Tuesday to clarify his earlier remarks about the scope of Mills' immunity agreement.  Committee chairman Bob Goodlatte explained that Issa had contacted the Department of Justice and received additional information about the scope of the immunity agreement.
Congressman Issa then took the microphone and explained that Mills "negotiated a very, very good deal…."  He further explained, "She did not just receive immunity related to the production of the drive, the computer and [its] contents, but, in fact, received immunity under 18 U.S.C. § 793(e) and (f), 18 U.S.C. § 1924 and … 18 U.S.C. § 2071."
18 U.S.C. § 793(e) covers the illegal retention and transmission of materials "relating to the national defense, or information relating to the national defense which information the possessor has reason to believe could be used to the injury of the United States or to the advantage of any foreign nation."
18 U.S.C. § 793(f), of course, is the now infamous gross negligence statute that the Department of Justice considers to be unconstitutional, according to Director Comey.
18 U.S.C. § 1924 is the misdemeanor statute involving the unauthorized removal and retention of classified material.
Finally, 18 U.S.C. § 2071 covers the concealment, removal or mutilation of certain government documents.
Congressman Issa said he wanted to pay particular attention to the immunity under § 2071 because of evidence uncovered in recent weeks.  Specifically, Issa referred to Reddit posts that Director Comey acknowledged at the hearing on Tuesday were by written Paul Combetta.  The now deleted posts said a client asked to have the email address belonging to someone who was "VERY VIP" stripped from a batch of archived emails.  Director Comey also acknowledged that Combetta likely received the directions to strip the email address from Cheryl Mills.
Issa then explained that he essentially believed this was evidence that Mills ordered the destruction of documents that were under congressional subpoena.  However, under the terms of her immunity agreement, it appeared to Issa that she would be protected from prosecution for such conduct as the result of her board immunity agreement.
In a slight turnabout from his earlier testimony, Director Comey said the Department of Justice would have to explain the exact details of the immunity agreement.  However, he did also say that he remained confident that the DOJ immunity agreement provided they would "not use anything from the laptops against [Mills] in a prosecution for a list of [certain] offenses."
Unfortunately, before Director Comey said anything additional about the matter, Democratic Congresswoman Shelia Jackson Lee interrupted and steered the discussion in a different direction.
Have a tip we should know? [email protected]