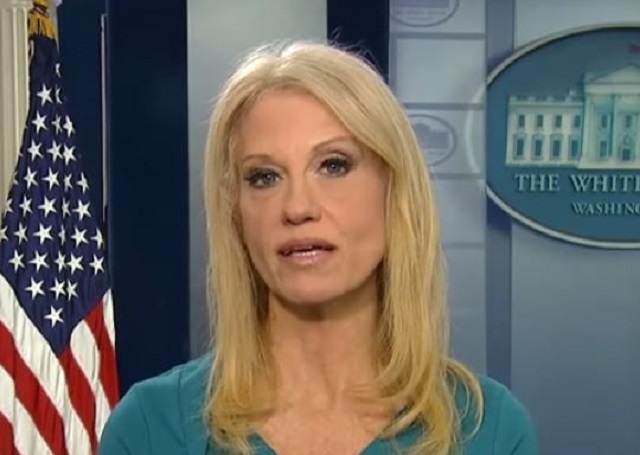 The backlash continues after Kellyanne Conway, Counselor to the President, promoted Ivanka Trump's products while addressing Fox News from the White House Thursday morning. There was immediate concern that Conway's words violated federal prohibitions against public officials endorsing products, and now Citizens for Responsibility and Ethics in Washington (CREW) is asking the White House to investigate.
CREW is asking OGE and WH Counsel's Office to investigate Kellyanne Conway: "Hard to find a clearer case of that kind of misuse of office." pic.twitter.com/n0d4YPKL9E

— Kyle Griffin (@kylegriffin1) February 9, 2017
In a letter sent to White House Counsel Donald McGahn, CREW referenced the statute that Conway may have violated, and asked the White House Counsel's Office and the Office of Government Ethics (OGE) to "investigate this apparent violation of federal law, ethics regulations, and other standards of conduct, and take any necessary disciplinary action."
Conway told viewers she was giving Ivanka Trump a "free commercial," and said, "Go buy it today, everybody. You can find it online." CREW claims that this violated the law against endorsements of products, and that it constituted a misappropriation of public funds because "[a]ppropriations for the Executive Office of the President were not made for the purpose of endorsing commercial products.
It remains to be seen how the White House Counsel's Office or OGE will respond to this. As LawNewz.com's Rachel Stockman reported earlier, OGE can order or recommend disciplinary actions, but enforcement is up to the head of the agency in question. Since Conway is Counselor to the President, it would be up to President Trump to take action. During a press conference Thursday afternoon, White House Press Secretary Sean Spicer said that Conway has "been counseled," but would not elaborate.
[Image via Fox Business screengrab]
Have a tip we should know? [email protected]