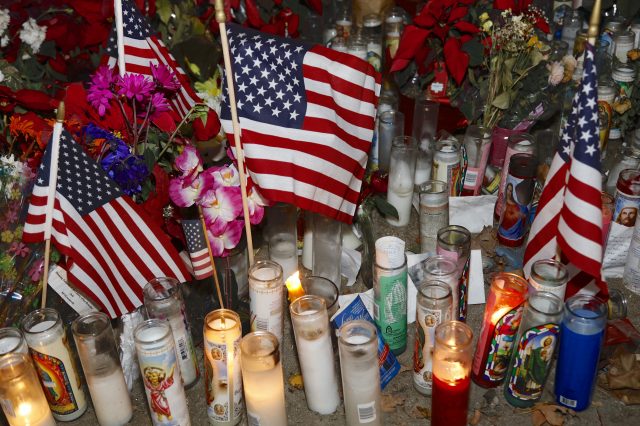 RIVERSIDE, Calif. (AP) — The sister-in-law of the couple responsible for the San Bernardino terror attack changed her plea to guilty Thursday in a case involving a sham marriage, federal prosecutors said.
Tatiana Farook, 32, pleaded guilty in Riverside, California, to one felony count of conspiracy to commit immigration fraud that included lying to federal agents and in legal documents, according the U.S. Attorney's Office.
She faces a maximum of five years in prison when she's sentenced Nov. 13.
Her husband, Syed Raheel Farook, is the brother of Syed Rizwan Farook, one of the two shooters in the December 2015 attack that killed 14 people.
The marriage-fraud case involves Tatiana's sister, Mariya Chernykh, a Russian immigrant whose alleged sham marriage to a Riverside man was discovered when her husband became part of the shooting investigation.
The marriage charges are unrelated to the attack.
Chernykh pleaded guilty Jan. 26 to conspiracy, perjury and two counts of making false statements on Jan. 26.
Under a plea agreement with prosecutors, Chernykh faces up to 20 years in prison and $1 million in fines. She is scheduled to be sentenced Nov. 20.
Chernykh, 26, also faces deportation, and has been in the custody of U.S. Immigration and Customs Enforcement since shortly after her arrest.
Syed Raheel Farook, 31, pleaded guilty Jan. 10 to conspiring to commit immigration fraud by setting up his Russian sister-in-law in a sham marriage. He remains free on bail and also faces a maximum of five years in prison when he's sentenced Nov. 13.
Chernykh is married to Enrique Marquez Jr., a family friend of the Farooks accused of supplying guns and explosives used in the San Bernardino attack that killed 14 people and wounded 22 others on Dec. 2, 2015. Marquez has been charged with conspiring to support terrorists, lying about the firearm purchase and participating in a sham marriage.
"The three defendants made false statements in immigration documents, Chernykh paid Marquez for his participation in the scheme, and Chernykh made additional material false statements during interviews with FBI special agents," according to a statement from prosecutors.
Marquez, who is named as an uncharged co-conspirator in the marriage indictment, remains in jail. His trial is scheduled for Sept. 26.
Marquez admitted he was paid $200 a month to marry Chernykh, according to court documents.
[image via Joseph Sohm, Shutterstock]
Have a tip we should know? [email protected]