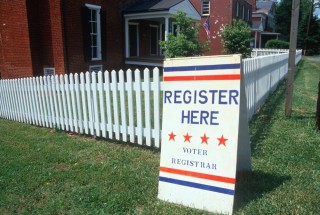 Black students at Kennesaw State University may be the target of a plot to keep them from voting, according to a memo Dean Michael Sanseviro sent earlier this week. The Atlanta Journal Constitution reported that people walking around campus with clipboards offering to register students to vote may not be for real.
Dean Sanseviro cautioned students that "unauthorized individuals are walking around with clipboards claiming they are registering students to vote," and that they are focusing on "particular student populations." The dean also said this is not the first time they've faced this problem. "We have had students in the past not be able to vote on election day because they completed a form with an unauthorized person and were never properly registered," he wrote.
A student told the Journal Constitution that the people behind the operation are targeting black students, trying to keep them from voting by saying they will register them and then not doing it. A spokeswoman for the school said that the suspected actors are not permitted on campus.
The school will be having approved voter registration drives on September 21 and 27, and they are planning a program to educate voters in the coming weeks.
[Image via Joseph Sohm/Shutterstock]
Have a tip we should know? [email protected]