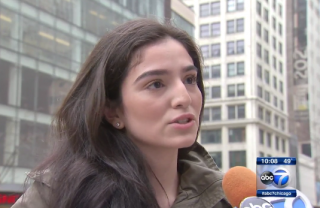 A journalism student is getting press attention after the profile of a fake person on Twitter used her photo and claimed to have had sex with Ted Cruz, Chicago's WLS-TV reported. An unknown person used a picture of Samantha Rivera, a junior at DePaul University, without her knowledge, claiming to be a Los Angeles Times reporter named Jennifer Carr. The profile for Carr, who is not an actual person, posted that she had an affair with the GOP Presidential candidate when she worked for him from 2012-2013. The post was retweeted more than 600 times, and was followed with another post insisting that the account was not hacked and that "Carr's" parents were being threatened by Cruz supporters, according to DePaul student newspaper, the DePaulia. Suddenly, Rivera got a flood of calls, emails, and text messages Wednesday morning, asking if she had been involved with the Texas senator.

Rivera, who hosts Univision's La Hora Picante radio show, said she's never even met Cruz. She told WLS that she has no idea who created the fake account. "I was completely dumbfounded, you know, who would do this?"
Her father, an investigator, traced it to another account that has used multiple aliases. The DePaulia reported that Reddit users have claimed it has connections to an anonymous sports gambling blogger who has gone by various fake names. The Jennifer Carr account has since been reported and removed.
While the fake profile did not use Rivera's name, attaching her likeness to a bogus affair with a Presidential candidate could be grounds for her to sue the perpetrator under Illinois "false light" law. A person can be held liable under a false light claim if they publicly depict someone falsely in a way that is highly offensive to a reasonable person with reckless disregard for the individual. Rivera could have a case against the person behind the profile, if she can find out who it is.
[h/t and screengrab via WLS-TV]
Have a tip we should know? [email protected]