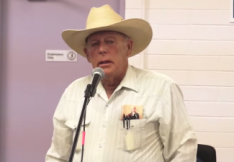 Militia leader Ammon Bundy's arrest on January 26th broke the back of his movement, but the fallout continues. His father, rancher and fellow militia honcho Cliven Bundy, was arrested late Wednesday at Portland International Airport. This happened just after four holdouts occupying a federal building agreed to surrender to authorities.
Cliven Bundy's arrest originates from April 2014, when this guy led a standoff against federal authorities in Nevada. It's a whole thing, with sister-site Mediaite gathering a lot coverage on this dude. Basically, this was a huge dispute about feds impounding his cattle, and the fact he thinks the national government shouldn't even exist. Yup.
With one of his sons getting tasered, and people pointing guns at each other, the potential for death was real. One militiaman and U.S. Army vet, Ryan Payne, even admitted to positioning snipers to pick off government agents, according to The Portland Oregonian. This situation ended with authorities backing off to avoid bloodshed.
So yeaaaaah, this has been a long time coming. Bundy had been at the airport to head to Burns, Oregon, where the last of four militia people were holed up at Malheur National Wildlife Refuge, a federal building. They and others led by Ammon Bundy took that place over on Jan. 2, protesting the imprisoning of two ranchers, and demanding that the government give up the land. (Someone random guys took over a government building. Isn't that crazy?)
Of course, Ammon's aforementioned cuffing squashed that, and the militiamen scattered. The last four holdouts recently promised to turn themselves in on Thursday morning since FBI agents infiltrated the refuge, convincing them to surrender.
Cliven Bundy faces weapons charges, and a conspiracy charge to interfere with a federal officer.
[h/t The Oregonian]
Update — Feb. 11, 02:29 p.m. ET: The occupation in Burns, Oregon is over. The New York Times announced that three of the four holdouts in the Malheur National Wildlife Refuge surrendered shortly after 9:30 a.m. PT on Thursday. The fourth, David Fry, initially said he wouldn't leave, saying he wanted his grievances heard, and that he'd rather die than give up. He later turned himself in around 11 a.m.
–
>> Follow Alberto Luperon on Twitter (@Alberto Luperon)
Have a tip we should know? [email protected]