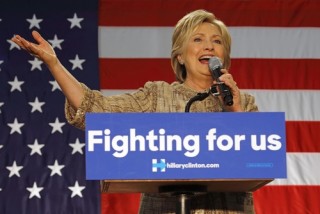 California citizens may not head to the polls for the state's primaries until tomorrow, but they've already made a statement with their dollars.
There's no state more important for either of the Democratic presidential candidates, but former Secretary of State Hillary Clinton has received more than three times as much from Californians as Sen. Bernie Sanders(D-Vt) when it comes to contributions of more than $200. However, nearly all of Clinton's California funding has come from the state's largest metro areas, while Sanders has out-raised her in smaller cities and more rural areas.
Clinton's campaign and super PAC have received nearly a quarter of their combined money from California, with $56.2 million making up 24 percent of her fundraising. A comparable share of Sanders's contributions have come from the Golden State, though it's a much smaller sum—$16.8 million, accounting for about 22 percent of his national total.
California is also home to the zip codes that have been the single most generous nationwide both to Clinton and to Sanders. Sanders has received the most funding from San Francisco's 94110, a largely commercial and residential area in the city's Mission District. Clinton's top zip is Los Angeles's 90067 — the half-square mile adjacent to Beverly Hills that forms the neighborhood of Century City, home to Fox Studios. She has received $10.3 million from that zip code, $10 million of which went to Priorities USA Action, the main super PAC backing her White House bid, rather than to her campaign committee. All $10 million came from Haim Saban, a film and television producer, and his philanthropist wife Cheryl, longtime backers of Hillary and Bill Clinton.
Of the $56 million Clinton has received from the state, nearly $22.9 million has gone to outside groups. The pro-Sanders funds all went to his campaign; at his behest, he has no similar super PAC boosting him. (An important note: 62 percent of Sanders' cash has come from donations of $200 or less, which means the identity, occupation and address of the contributors doesn't have to be publicly disclosed — so we have no way of knowing where that money came from. For Clinton, the comparable figure is about 20 percent.)
Among metro areas, the Los Angeles-Long Beach area has been the state's top contributor to both Clinton and Sanders, and the former has drawn especially heavily from the region. Nearly half of her California contributions have come from the L.A. metro area. Sanders, meanwhile, has collected more than $4.1 million from the area, nearly all of which has gone to his candidate committee.
Clinton's contributions outpace those of Sanders in the largest of California's metro areas — San Francisco, San Jose, Oakland, San Diego, Sacramento, Riverside and others, in addition to Los Angeles — but in smaller cities, particularly in the state's Central Valley, Sanders has pulled in more. Metro areas such as Fresno, Stockton and Bakersfield have all given more to Sanders.
On the Republican side, California has also been the chief source of contributions for Donald Trump, with $651,798 to make up 15 percent of his total. His most generous zip code nationwide is the same as Clinton's, 90067 in Los Angeles.
Emma Baccellieri is a reporter with OpenSecrets.org, a non partisan and nonprofit organization that tracks money and politics. 
Have a tip we should know? [email protected]