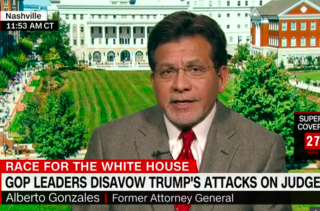 Former U.S. Attorney General Alberto Gonzalez, who might have been the only legal mind to publicly support Donald Trump's concerns about a federal judge, seems to be backing off just a bit. Federal judge Gonzalo Curiel is presiding over the fraud lawsuit involving Trump University. Trump has repeatedly called the judge a 'hater' and raised questions as to whether he can be impartial given his 'Mexican' heritage.
Gonzalez penned an opinion piece in The Washington Post stating that Trump has the right to raise concerns about a judge's impartiality and "ask if Judge Gonzalo Curiel is fair." On Monday, during an appearance on Legal View with Ashleigh Banfield, Gonzalez had some much harsher words for Donald Trump.
"The fact that Donald Trump has attacked a Hispanic judge makes me angry. I've worked very hard with Hispanic organizations to get good quality Hispanics on our courts so it makes me angry some of these comments which I think are wrong and inappropriate," Gonzalez said.  However, the former attorney general did stand by his claim that Trump has the right to be concerned about a fair court proceeding.
Gonzalez also said:
"I am not supporting Donald Trump's comments.I didn't write what I wrote in support of his comments. I didn't write what I wrote in support of the notion that the judge should be recused solely on his race. I wrote to say that Donald Trump like every litigant in the United States has the right to a fair trial before an impartial judge. If there are any questions related to that impartiality, even the appearance of impropriety is enough to cause a judge to recuse himself….

The call for a recusal of a judge based solely on ethnicity in my judgement is wrong, and to do it, publicly, in my view, demeans the judge, and really does hurt the reputation of the judiciary and I just think it was inappropriate "
Have a tip we should know? [email protected]
Rachel Stockman - Editor in Chief / On Air Host