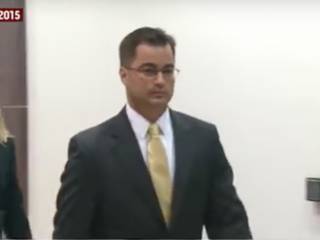 Bryan Pagliano, the Clinton IT worker who is widely believed to have maintained former Secretary of State Hillary Clinton's private server, filed copies of his DOJ immunity agreements, and a motion asking the court to keep those documents under seal. The documents are part of a federal FOIA case brought on by Judicial Watch, a conservative watchdog organization.
"The U.S. Government counsel responsible for the investigation that gave rise to the grant of use immunity consented to that request," Pagliano's attorney wrote in a newly filed document.
His attorneys also reveal that Pagliano gave the testimony to the DOJ in December 2015 as part of the ongoing federal investigation into the Clinton email server. Interestingly, Pagliano's attorneys say he was granted limited "use" and "derivative use" immunity shortly after talking with the feds. He apparently spoke with investigators on at least two separate occasions.  "Derivative use" immunity does not prevent the government from prosecuting Pagliano, but just limits them from using any evidence derived from Pagliano's testimony against him.
Last week, federal Judge Emmet G. Sullivan postponed the deposition of Pagliano in the FOIA case and ordered that he reveal details of his immunity agreement with the federal government. Pagliano plans to assert his Fifth Amendment rights in the FOIA case.  The judge also demanded that Pagliano's attorneys file a brief "addressing the legal authority upon which Mr. Pagliano relies to assert his Fifth Amendment rights in this civil proceeding."
In response, Pagliano's attorneys filed a Memorandum of Law Tuesday afternoon, which says, in part:
The potential for self-incrimination here is sufficient to justify Mr. Pagliano's intention to assert his Fifth Amendment rights. Mr. Pagliano's prospective deposition will inevitably cover matter that might 'furnish a link in the chain of evidence needed to prosecute.' The Court has authorized Judicial Watch to obtain discovery relating to "the creation and operation of clintonemail.co for State Department business." It is not "fanciful" to conclude that those matters could fall within the scope of an ongoing (or possible future) criminal investigation of the same or similar subject matter." Indeed the mere fact that the government was willing to offer Pagliano "use" immunity here in exchange for his testimony indicates that his fear of prosecution is more than fanciful or speculative.
A judge will likely decide shortly whether Pagliano is allowed to keep his immunity agreement filed under seal.
Read Pagliano's Memorandum of Law: 
Judicial Watch v. U.S. Department of State
Editor's Note: This article was updated to reflect a memorandum of law that was filed late Tuesday afternoon. 
Have a tip we should know? [email protected]
Rachel Stockman - Editor in Chief / On Air Host