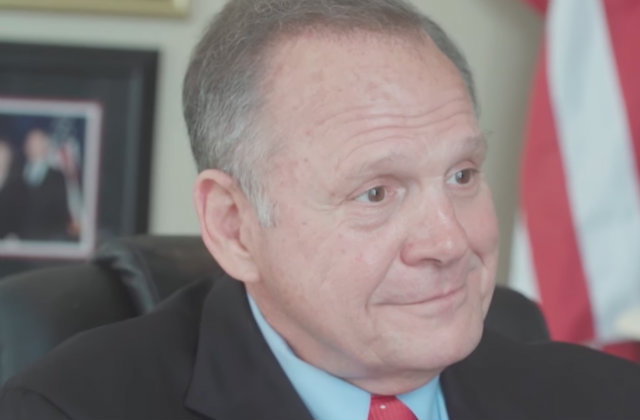 A charity run by Kayla Moore has been accused of violating tax code by promoting the U.S. Senate campaign of her husband Roy Moore. The Campaign Legal Center, a nonprofit that describes itself as nonpartisan, filed its complaint with the Internal Revenue Service on Thursday. They claim this group, The Foundation for Moral Law, promoted his candidacy for months. This included posting Mr. Moore's official campaign ads on their Facebook page, and calling for his election in their emailed newsletter.
"The IRS should review this evidence and consider revoking FML's tax-exempt status," said Brendan Fischer, director of federal and FEC reform at CLC, in an emailed statement obtained by Law Newz. "FML has demonstrated a clear pattern of using their charitable resources to promote Moore's candidacy."
You can read the complaint here. Law Newz reached out to the FML for comment.
"The Foundation for Moral Law has and will always abide by the rules set forth by the Internal Revenue Service," wrote attorney Matthew Clark in an emailed statement. "The CLC's sudden interest in the Foundation is politically-motivated, and we suggest they abide by the rules for political engagement to which they are supposedly so committed."
This group, a tax-exempt, 501(c)(3) organization run out of Montgomery, Alabama, advocates socially conservative positions, and opposes same-sex marriage and abortion. Moore stepped down as the group's president in 2013, when he became Chief Justice of the Alabama Supreme Court. His wife took over in his place. As for Mr. Moore, the Alabama judicial court suspended him from the rest of his term last year after a complaint that he tried to get probate judges to deny same-sex couples marriage licenses in spite of the Supreme Court ruling in Obergefell v. Hodges. (He denied the accusation, and in a statement obtained by The New York Times, blamed his suspension on "radical homosexual and transgender groups to remove me as chief justice of the Supreme Court because of outspoken opposition to their immoral agenda.")
The U.S. tax code prohibits nonprofits from getting involved in political campaigns. Here's how the IRS puts it:
Contributions to political campaign funds or public statements of position (verbal or written) made on behalf of the organization in favor of or in opposition to any candidate for public office clearly violate the prohibition against political campaign activity. Violating this prohibition may result in denial or revocation of tax-exempt status and the imposition of certain excise taxes.
There are exceptions, however. For example, voter registration drives are permissible if done in a nonpartisan manner.
Moore, 70, is running for the U.S. Senate as a Republican to replace Jeff Sessions, who is now U.S. Attorney General. Luther Strange, another Republican, was appointed to fill the vacant spot, and is fighting to keep the position. They'll face off in a runoff primary scheduled for Tuesday, and the winner will campaign for the special election to replace Sessions, set for December 12.
Update – Sept. 21, 4:00 p.m.: Added a statement from an FML attorney.
[Screengrab via The Guardian]
Have a tip we should know? [email protected]