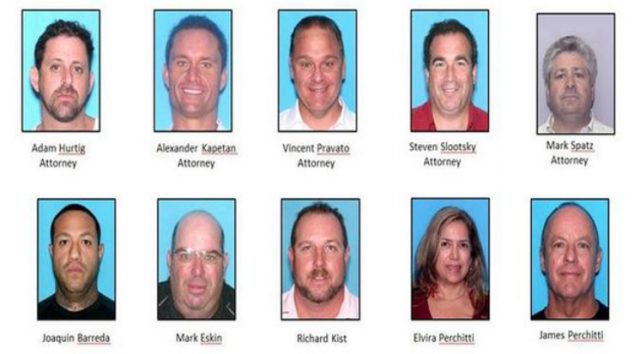 Five attorneys in Florida have been charged with multiple felonies after an alleged patient-brokering scheme was disrupted by local, state and federal law enforcement agencies.
Those five attorneys had five lay accomplices who were charged in the scheme as well. Together, the ten alleged schemers are accused of pocketing upwards of $521,000 in profits over the course of May 2015 through December 2016.
According to investigators, the personal injury attorneys paid their accomplices to unlawfully solicit vehicle accident victims and then have those victims file insurance claims and seek damages for personal injury benefits.
The solicitors were apparently paid on a per-victim basis. After receiving a client from a solicitor, the attorneys would then allegedly send them on their way–to a health care facility where the attorneys themselves are accused of receiving illicit kickbacks to the tune of $1,500-$2,000 per patient.
Such a scheme may violate Florida's law against patient brokering.
Depending on the total number of victim-client-patients involved in the alleged scheme, the ten charged individuals face felony charges under that law carrying sentences of up to 30 years in prison.
The five lawyers and their accomplices are being prosecuted for violating that law and face additional charges–including criminal solicitation and organized fraud.
[image via Broward County Sheriff's Office]
Follow Colin Kalmbacher on Twitter: @colinkalmbacher
Have a tip we should know? [email protected]