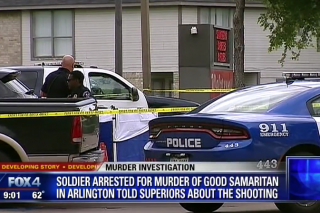 One of the biggest debates in the country has been whether having more people with guns can prevent violent crimes. The idea is that trained civilians on the scene can act when police are not available. The unfortunate other side of this is that when people act in the place of officers, they take on the same risks as well. On Monday morning, Anthony "T.J." Antell, 35, was trying to help and paid with his life.
Antell was in the parking lot of a Walgreens in South Arlington, Texas, when Ricci Bradden fired a gun at his wife, Quinisha Johnson, during an argument, the Dallas Morning News reported. After Bradden allegedly shot at Johnson's feet twice, once hitting her in the ankle, he got in his truck to drive away. Antell, a Marine who owned a CrossFit gym, retrieved a gun from his car and pointed it at Bradden's truck. Bradden then got out of the vehicle, and according to an arrest warrant, knocked the weapon out of Antell's hand and shot him in the head.
Bradden, 22, who is in the Army, fled before confessing to his supervisors at Fort Hood. He later went to the police with his father to turn himself in. Bradden is charged with murder. Johnson, his girlfriend, was hospitalized for her ankle injury.
According to the Washington Post, Antell had a permit to carry a concealed gun. Arlington Police spokesman Christopher Cook told the Morning News that without more information, he couldn't speculate as to whether Antell should have gotten involved.
[screengrab via Fox4]
Have a tip we should know? [email protected]