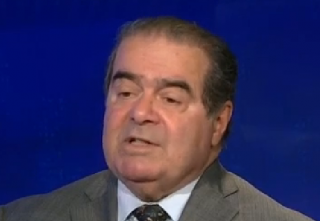 George Mason University got a lot of attention when they announced that after receiving a large donation, they would be changing the name of their law school to the Antonin Scalia School of Law, most of which having to do with unfortunate acronyms. All snickering aside, some university staff members are taking issue with what the Scalia name represents, as well as the terms of the donation. University President Ángel Cabrera responded to the criticism, standing by the decision to rename the school after the late Supreme Court justice.
Cabrera issued a statement addressing the controversy, and acknowledged that Justice Scalia's decisions may be offensive to members of the university's Faculty Senate. Nevertheless, he said the late jurist's beliefs are not the reason for the renaming, explaining,
We are recognizing a man who served our country at the highest level of government for 30 years and who many experts of diverse ideological persuasions…consider to have been a great jurist who had a profound impact in the legal field.
He went on to say that refusing the donation because some people disagree with Scalia's opinions would be "inconsistent with with our values of diversity and freedom of thought."
The source of the $30 million donation, the Charles Koch Foundation, has drawn criticism as well. Cabrera hailed the gift from the known conservative donor as the largest in university history, and said it will go towards scholarships. The Faculty Senate had said in a motion that the terms of the gift gave the Koch Foundation too much control over the school, in that it was linked to current university Dean, Dr. Henry Butler, remaining in office. The motion cited the grant agreement, saying that if someone else were to become Dean, the school would have to "immediately notify the Donor." Cabrera responded to this concern by saying that donors understand that they "have no authority whatsoever in our faculty selection and promotion processes, our student admissions, or our curricular choices," and if they aren't satisfied with that, the school declines the donation.
[screengrab via C-SPAN]
Have a tip we should know? [email protected]