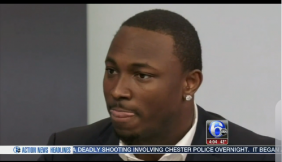 LeSean McCoy, the shifty and dynamic Buffalo Bills running back, allegedly got in a fight with off-duty police officers in the City of Brotherly Love on Sunday. The former Philadelphia Eagle was reportedly involved in an altercation at an Old City nightclub on the eve of SuperBowl Sunday, according to a police report obtained by CBS Philadelphia. The incident occurred at Recess, a "Members Only Club" around 2:45 AM on Sunday morning.
McCoy is now being investigated for assault but has not been charged. McCoy and two friends, former NFL running back Curtis Brinkley and college teammate Tamarcus Porter, ran into a dispute with the three officers over the purchase of four bottles of champagne.
The police report alleges that Officer Roland Butler was "punched, kicked, and stomped about his body and head multiple times." Butler suffered multiple injuries including a laceration to his right eye, broken ribs, a broken nose, and a sprained thumb, according to the report. Officer Darnell Jessie, who apparently stepped in as the men stomped on Butler, received eight stitches over his left eye and may have a skull fractures, reports confirm.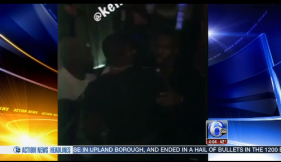 LeSean McCoy accused Eagles Head Coach, Chip Kelly, of having racial motivations when he traded the long-time Eagles running back and former draft pick to the Buffalo Bills in March 2015.
No charges have been filed at this point.
[h/t NBC]
Have a tip we should know? [email protected]