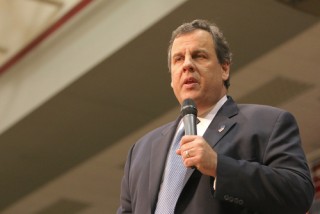 Lawyers for Bill Baroni and Bridget Anne Kelly, the defendants in the criminal case stemming from the Bridgegate scandal, are pointing fingers at New Jersey Governor Chris Christie, alleging that he destroyed important records, WNYC reported. Christie denied having any knowledge of the plot to close lanes on the George Washington Bridge in order to cause traffic problems in Fort Lee, NJ, even though the act was political revenge for the city's mayor not supporting him.
Baroni, then the Port Authority's Deputy Executive Director,  and Kelly, Christie's former Deputy Chief of Staff, are facing charges for their alleged involvement in the scandal. Their attorneys now say Christie deleted text messages and hid emails that may have contradicted his claim that he knew nothing about the lane closure.
Briefs filed in federal court Monday evening allege a number of missing or destroyed pieces of possibly significant evidence. The attorneys claim that the Governor's cell phone from the time of the lane closure is missing, 12 text messages between Christie and Kelly the day of a related hearing have been deleted, and that Christie's legal team did not turn over potentially key emails. The emails in question are ones that the Governor sent to former Port Authority chief David Samson in December 2013, when Samson's employee, David Wildstein was subpoenaed. Wildstein was also charged with criminal offenses for his role in the scandal, and he pleaded guilty to felonies for his involvement.
Baroni's lawyer Michael Badlassare, wrote in his brief, "President Nixon's tapes were not immune from a subpoena," and that Christie's phone should be no different.
Have a tip we should know? [email protected]