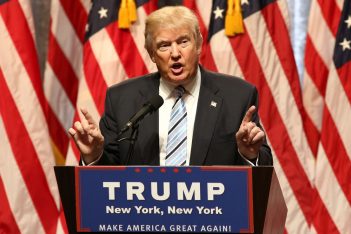 GOP Presidential candidate Donald Trump announced on Tuesday his intention to push for a constitutional amendment setting term limits for members of both chambers of Congress.
Speaking to a crowd at a campaign rally in Colorado Springs, Trump spoke about his desire to "break the cycle of corruption" in Washington, D.C. if he elected president.  The GOP nominee told the crowd it was time to "drain the swamp" of special interests.  He recited portions of his newly unveiled ethics reform proposals and then told the crowd another major announcement which is part of his plan.
"If I am elected president, I will push for a constitutional amendment to impose term limits on all members of Congress," Trump said, as the room erupted in cheers.
Crowd goes wild as Trump proposes term limits for members of Congress. pic.twitter.com/1pImdgiphK

— Tom Llamas (@TomLlamasABC) October 18, 2016
LawNewz.com will update this breaking story with additional information throughout the afternoon.
Have a tip we should know? [email protected]