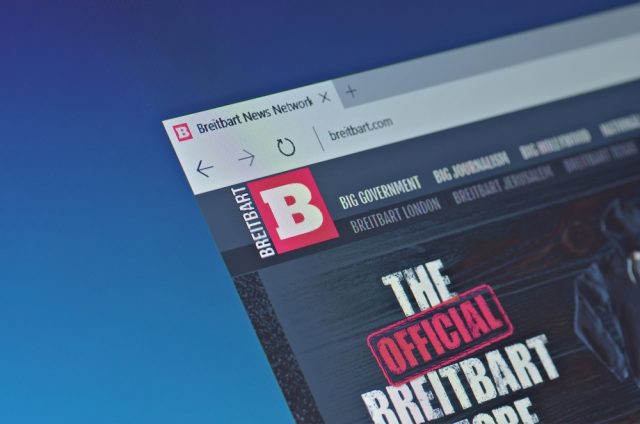 The FBI has over 1,000 documents related to the Breitbart News Network.
A file containing those documents was released by the FBI just moments ago, in response to a Freedom of Information Act (FOIA) request.

Of those 1,475 total documents, only twenty-three are currently publicly available for inspection. And each of those 23 publicly available documents are highly redacted–most to the point of providing no information whatsoever.
The remaining 1,452 documents are classified under various exemptions to FOIA request rules.
Byzantine statutes provide multiple exemptions to the nation's foremost transparency law. Most of the Breitbart-related documents are classified under exemptions b6, b7C, and b7E. B6 is a general privacy exemption typically related to personnel and medical information. B7C is a "categorized" exemption allowing classification under more sweeping terms.
Finally, B7E allows for the classification of documents which "would disclose techniques and procedures for law enforcement investigations or prosecutions, or would disclose guidelines for law enforcement investigations or prosecutions if such disclosure could reasonably be expected to risk circumvention of the law."
One series of non-exempt Breitbart News Network documents references an alleged distributed denial of service (DDoS) attack against Breitbart.com.
According to an FBI analysis, however, that alleged DDoS attack was determined to be the result of a "malfunctioning ad network."
This is a breaking story and LawNewz currently has a team of legal experts poring over the documents in order to glean more information. This post will be updated as our analyses move forward.
Editor's note: This post has been updated since originally published.
[image via screengrab]
Follow Colin Kalmbacher on Twitter: @colinkalmbacher
Have a tip we should know? [email protected]