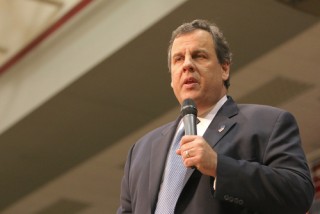 On Monday, the trial began in the case against Bill Baroni and Bridget Anne Kelly, former aides of New Jersey Governor Chris Christie, who were allegedly involved in orchestrating lane closures on the George Washington Bridge as payback against a political opponent. The scandal, known as "Bridgegate," caused traffic delays that affected emergency vehicles responding to calls, and significantly longer trips for commuters. It was allegedly done after Mark Sokolich, the Democratic Mayor of Fort Lee, New Jersey, didn't endorse Christie when he ran for reelection.
Opening statements in the case took place Monday morning, and prosecutors let out a little bombshell. They claimed that Gov. Christie knew about the plot when it was happening in 2013. Christie has long denied being behind it or having any knowledge of the scheme. The prosecution alleged that Baroni and co-conspirator David Wildstein bragged to Christie about the lane closures when it happened, and that the point of it was to "mess" with Sokolich. Defense attorneys had previously indicated that Christie had knowledge of the operation, but this was the first time prosecutors made that claim.
LawNewz.com will provide updates on the case as it unfolds.
[Image via Rich Koele/Shutterstock]
Have a tip we should know? [email protected]