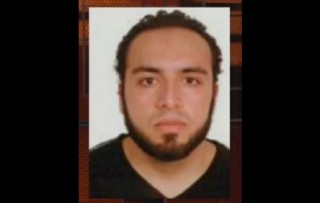 As law enforcement officials and the public learn more about Ahmad Khan Rahami, the Afghani-born suspect in the bombing attacks in New York and New Jersey over the weekend, it has come out that this is not the Rahami family's first conflict with the law, according to documents uncovered by LawNewz.com.
Rahami's family owns a fried chicken restaurant in Elizabeth, NJ called First American Fried Chicken. The same town where five bombs were found at a train station Monday morning. Neighbors complained that patrons of the establishment were making noise, and urinating in public. According to court documents obtained by LawNewz.com, the Rahamis received a summons in 2008, saying they had to close by 10pm. Those documents say that the summons was dismissed because "the restaurant met the conditions of the ordinance and that it was approved to stay open past 10:00pm."
The Rahamis eventually sued, claiming that after the summons was dismissed, police kept issuing summonses and that a neighbor, James Dean McDermott, repeatedly called police to report them for being open too late. According to the complaint, McDermott once entered the store and said, "Muslims should not have businesses here." McDermott allegedly made other anti-Muslim comments as well.
The complaint also says that one encounter with police led to two of Rahami's family members being arrested with one being charged with disorderly conduct and "preventing the police from lawfully performing an official function." The other was released without being charged, according to the lawsuit.
The Rahamis' lawsuit was against the city council, the mayor, police officers, and McDermott. They claimed that they were subjected to discrimination for being Muslim. Mayor Christian Bollwage insisted to The New York Times that there was no such discrimination. "It was neighbor complaints, it had nothing to do his with ethnicity or religion," Bollwage said, adding, "It had to do with noise and people congregating on the streets." Daniel Antonelli, an attorney who represented one of the defendants, told LawNewz.com that the case was administratively dismissed by the court.
Have a tip we should know? [email protected]