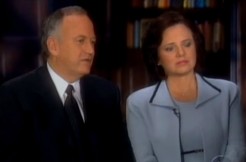 Someone murdered JonBenet Ramsey at her Boulder, Colorado home in December, 1996. The unsolved murder of the 6-year-old beauty queen triggered national media coverage. Investigators looked at multiple people: This included her parents, John Ramsey and Patsy Ramsey. They denied the allegation. Almost two full decades have passed, but a new allegation has surfaced.
The Case of JonBenet Ramsey, a CBS television special, shows former FBI profiler Jim Clemente and criminal behavioral analyst Laura Richards working their way through the 911 call, in which Patsy told the operator about JonBenet's death.
You can see their full analysis here:
What sparked this? Operator, Kim Archuleta, has stepped forward with her suspicions. Patsy was frantic in the first part of the call, but there was allegedly a sudden change in tone.
"Without me giving her any kind of closure, or any reassurance, she hangs up the phone, or it sounds like she goes to hang up the phone," Archuleta said in a Dateline interview aired on Friday. "You can hear the phone go to the cradle. And it didn't hang up."
Archuleta said she heard a male voice and another person speaking. So there were three voices, including Patsy. The Dateline episode, "Who Killed JonBenet," examined the possibility that this punctures holes in the parent's story. They were only three other people confirmed to be at the house that night: JonBenet's parents and her brother, Burke Ramsey, then 9. But Burke allegedly slept until cops arrived.
So Clemente and Richards checked out the audio. The background noise is famously hard to understand, but they attempted to enhance the sound. They said they heard a man say, "We're not speaking to you." Clemente suggested that this could be John. Behavioral analyst Richards said he might have been addressing a child.
Their conclusion: Burke was awake during the 911 call. That would counter the parent's original statement to police that Burke was sleeping.
Here's part of Dateline's interview with Archueleta, which premiered Friday in the episode, "Who Killed JonBenet?"

In a recent interview with Dr. Phil, Burke Ramsey denied that either he or his parents committed the murder.
[screengrab via ABC News]
–
Follow Alberto Luperon on Twitter (@Alberto Luperon)
Have a tip we should know? [email protected]