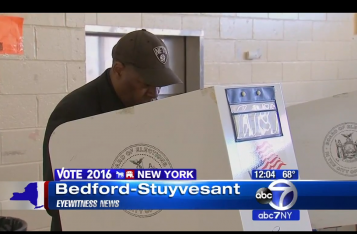 At a hearing on Tuesday in a lawsuit filed on behalf of hundreds of New York voters who say their voter party registration was changed without their consent, a federal judge did not grant the immediate relief the plaintiffs requested, however, she did allow the lawsuit to proceed and scheduled another hearing to take place at a later date.
According to TYT Network reporter Jordan Chariton, the judge ordered the plaintiffs' lawyers to amend their lawsuit to name all 62 New York counties as defendants and provide them notice about who will  appear in court to defend the county's voter registration process.
(Several part tweet) NYPrimary election lawsuit: Judge orders hearing 4 later date, instructs plaintiffs to name every single NY county as..

— Jordan (@JordanChariton) April 19, 2016
Defendants and give each county notice that they have to appear in court to defend their voter registration process (over 60 counties)…

— Jordan (@JordanChariton) April 19, 2016
The New York Board of Elections denied any responsibility for any voter registration errors and said that is a county issue, according to Chariton's reporting.
NY Board of Election said they have nothing to do with the problems, are "not responsible for the counties" #NYPrimary

— Jordan (@JordanChariton) April 19, 2016
Chariton also reports that the plaintiffs' lawyers view today's ruling as "good thing" because the lawsuit was not dismissed and therefore, they have an opening to challenge the election results.  The lawyers also reiterated their earlier calls for any voter who thinks they were wrongly removed from the Democratic Party voter rolls to vote on a provisional ballot in the primary contest on Tuesday.
#NYPrimary lawsuit lawyers say fact that motion wasn't dismissed is good thing since it preserves right 2 contest election #FeelTheBern

— Jordan (@JordanChariton) April 19, 2016
Lawyers urge Dems who feel they have had registration changed wrongly should vote on provisional ballot since a new hearing has been granted

— Jordan (@JordanChariton) April 19, 2016
Democratic presidential candidate Bernie Sanders has repeatedly spoken out against the New York closed primary system.  Many political analysts say Sanders is the candidate who was hurt most by the alleged voter registration problems in New York.
[image via screengrab]
Have a tip we should know? [email protected]