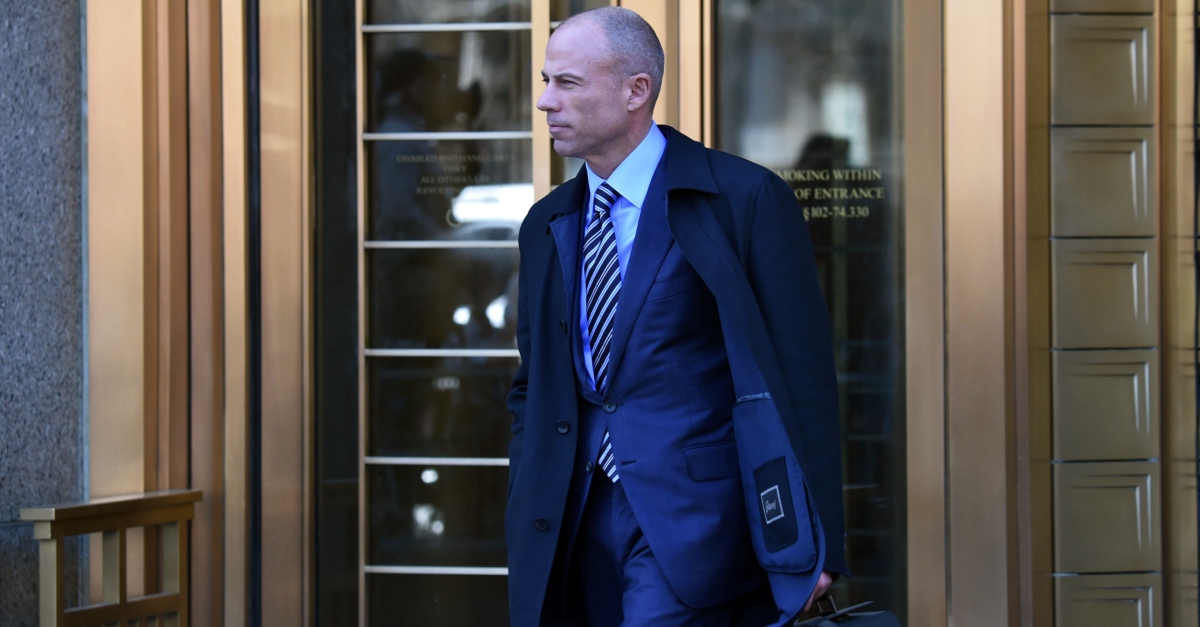 Michael Avenatti has been taken into police custody on suspicion of domestic violence.
According to TMZ, Avenatti was arrested Wednesday after a woman filed a domestic violence report against the popular anti-Trump attorney. TMZ originally reported that the woman who filed the report was Avenatti's estranged wife, but Lisa Storie-Avenatti "refuted" that through her attorneys.
Nonetheless, LAPD confirmed Avenatti was arrested on suspicion of domestic violence.
Anonymous law enforcement sources cited by the celebrity gossip outlet allege that woman's face was "swollen and bruised."
The alleged attack reportedly occurred earlier on Wednesday after Avenatti "kicked her out of the apartment," according to TMZ's law enforcement sources. A physical altercation allegedly ensued though it's presently unclear exactly what happened.
The woman then apparently ran outside of the apartment building wearing sunglasses and screaming into her cell phone on the sidewalk:
I cant believe you did this to me.
After that, security apparently took charge of the situation and ushered the woman back inside. Avenatti himself is then said to have returned roughly five minutes later to give chase.
"She hit me first," Stormy Daniels' attorney allegedly screamed, "This is bullshit. This is fucking bullshit."
As the woman went back upstairs to collect her belongings, she reportedly phoned the police. Mr. Avenatti was in custody soon after that where he remains at the time of publication.
The allegations have already impacted Avenatti's promised 2020 presidential run.
Avenatti was scheduled to hold events with the Vermont Democratic Party this Friday and Saturday. Those events have now been cancelled, according to the Burlington Free Press.
The one-time Hashtag Resistance favorite mused just last week about his wave-crested decision to challenge President Donald Trump in the electoral ring.
"There's a bunch of things that, had I planned my life around this, that I did, that I would not have done," he told Ruby Cramer with BuzzFeed News.
Now that wave appears to be crashing down.
Avenatti, for his part, was released from police custody on $50,000 bail, Wednesday. He denied the allegations. 
"I want to thank the hard-working men and women of the LAPD for their professionalism and their work today. They had no option in light of the allegations," he said. "I have never struck a woman. I never will strike a woman."
"I have been an advocate for women's rights my entire career and I'm going to continue to be an advocate," he added. "I am not going to be intimidated from stopping what I am doing. I am a father to two beautiful, smart daughters. I would never disrespect them by touching a woman inappropriately or striking a woman."
He says he'll be "exonerated."
[image via HECTOR RETAMAL and AFP and Getty Images]
Follow Colin Kalmbacher on Twitter: @colinkalmbacher
Editor's note: this article has been amended post-publication in light of Lisa Storie-Avenatti's denial that she was the woman involved. Avenatti's statement has also been added.
Have a tip we should know? [email protected]