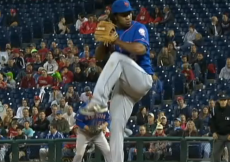 Three strikes you're out! Major League Baseball has announced that New York Mets relief pitcher Jenrry Mejia will be the first player in major league history to receive a lifetime ban for violations of the league's three-strike doping program. Mejia has been permanently suspended after he tested positive for a performance enhancing drug for the third time — in less than one year.
The converted starting pitcher was first suspended in April 2015 after failing a drug test and testing positive for the anabolic steroid stanozolol. Under MLB's doping program, the first offense results in an 80-game ban. Mejia returned to the National League Champions mid-season after serving his suspension only to be suspended again just days later. The second offense is a full season ban — 162 games — and a last warning. Mejia apparently failed to heed that warning and now becomes an infamous name in the annals of Major League Baseball history.
In a statement to the media, the Mets said they were "deeply disappointed" in Mejia and "fully support MLB's policy toward eliminating performance-enhancing substances from the sport.
[h/t NewYorkTimes]
[Screengrab via SNYtv]
Have a tip we should know? [email protected]