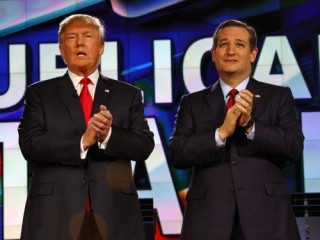 When news broke Friday that Donald Trump claimed (via Twitter) that he had standing to sue Ted Cruz, we immediately got to work contacting our legal sources from both sides of the political aisle. Trump alleges that Cruz is not a 'natural born citizen' therefore is ineligible to be our president. We will put that claim aside for now, and look squarely at Trump's claim that he actually has standing to file this lawsuit.  This might not come as a shock but there is division among legal scholars about whether Trump has standing. However, some, even liberal scholars, believe he might.
First, a quick explanation of what 'standing'  means. It's a legal term to basically describe the first hurdle that you must jump through in order to bring a successful lawsuit. It is derived from the Article 3 of the U.S Constitution that says "The Judicial Power shall extend to all Cases… [and] to controversies."
So what qualifies as a case and controversy?  The courts have found three general requirements: 1) the person suing must show they will or are suffering from concrete, actual or imminent harm/injury 2) that the injury in question is traceable to the defendants's actions  3) if they do win, the courts must be able to redress the alleged harm (basically help the plaintiff find some kind of solution, i.e. money or injunctive relief)
"It is possible that Trump could sue a registrar of voters who lists Ted Cruz on the ballot, arguing that Cruz is not eligible to be President. That is the kind of suit which does have the possibility of going forward," said University of California Professor Rick Hansen. Hansen runs the popular electionlawblawg.com.
So, Trump, given that he is running against Ted Cruz, could make the argument that he is an injured party here because they are both listed on the ballot.
"There's at least an argument.  It is not a slam dunk," Hansen told LawNewz.com.
Eric Posner, a professor at the University of Chicago Law School, recently wrote an article on Slate.com arguing that Cruz is not a natural born citizen. "The natural way to obtain citizenship, then, was (and is) by being born in this country. Because Cruz was not "natural born"—not born in the United States—he is ineligible for the presidency, under the most plausible interpretation of the Constitution," Posner wrote.
However, LawNewz.com spoke to Posner about whether Trump himself would have standing — at this point in the game — to sue. Posner is doubtful.
"I don't see it, though, standing is a famously flexible doctrine," he said. Posner contends a successful lawsuit could only be brought once Cruz is in the White House.
"The only person who has standing is someone affected by an order that President Cruz issued," Posner said.
For example, in 2008, a man sued John McCain over his eligibility because McCain was born in the Panama Canal Zone. A court ultimately dismissed the suit because the man — who wanted to be an elector for Alan Keyes — couldn't show he was injured by McCain's run.  The court found that plaintiff would have to wait until after McCain was elected to bring the lawsuit. This is a good point. However, Trump's attorneys would probably try to distinguish his case from this one. In the McCain case, the judge found that the prospect that Alan Keyes would become president so theoretical that the plaintiff had "no greater stake in the matter than a taxpayer or a voter."
Trump won the New Hampshire primaries, and he has a double digit lead in the polls over his opponents in South Carolina. His presidency is not, at this point, theoretical. Furthermore, Trump may qualify under the notion of "competitive standing." As first pointed out by Rick Hansen, a judge in another lawsuit filed by a voter against McCain noted that "a candidate or his political party has standing to challenge the inclusion of an allegedly ineligible rival on the ballot, on the theory doing so hurts the candidate's or the party's own chances of prevailing in the election." Even if a court determines that Trump has standing to sue Ted Cruz, Trump has a very real chance of losing on the case's merits. For more on that, see my blog post from last month.
Have a tip we should know? [email protected]
Rachel Stockman - President / On Air Host