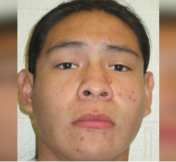 A Washington man is facing manslaughter charges after a bizarre and tragic incident that ended in the miscarriage of a seven-week-old fetus. The pregnant mother suffered the attack after she found herself on the receiving end of an alleged meth-fueled amateur burglary attempt.
Dwayne Bearchild (an unfortunately poignant last name), in the company of one man and one woman, entered a North Spokane shoe store in January and proceeded to, well, look at shoes, according to detectives. The pregnant store manager offered to hold shoes for Bearchild at the front of the store until he finished shopping. That's when things took a turn for the worse.
The men pretended to hand the woman a box of shoes, but instead struck her in the stomach with the shoe box and fled the store, policy say. The two other suspects escaped with stolen goods: two pairs of Nikes and one pair of Adidas. The brave and visibly distraught woman was able to describe the man who hit her to police. She also managed to pickup a partial plate on the trio's white or silver getaway van.
After Spokane police arrived, the pregnant woman began to describe cramps and discomfort. Two days later doctor's informed the woman she had a miscarriage. However, doctors were unable to link the assault to the miscarriage: a link that will be crucial to proving the state's manslaughter charge.
Court documents indicate the woman has had two previous miscarriages. While as many as 50% of all pregnancies may end in a miscarriage, according to
March of Dimes
, that percentage is significantly lower for recognized pregnancies — 15-20%. The mother's prior two miscarriages came at earlier stages in her pregnancy.
The victim was not able to positively identify Bearchild in a photo lineup. However, she did confirm that Bearchild looked most like her attacker. The man was apprehended by police shortly after they discovered he had an existing warrant for a Department of Corrections escape.
This is not Bearchild's first rodeo, the career criminal has an impressive list of priors, including six prior felony convictions, five gross misdemeanor convictions and one misdemeanor conviction.
Bearchild conceded to police that he has no memory of the incident and was high on meth at the time it occurred. Bearchild will remain in Spokane County Jail until he can be arraigned on his existing warrant and the pending charges of First Degree Robbery and First Degree Manslaughter.
[Screencapture via WA DOC]
Have a tip we should know? [email protected]