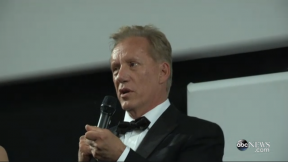 Actor James Woods, best known for his tough-talking, villainous roles in Casino and Ghosts of Mississippi, filed a lawsuit for defamation and invasion of privacy last July against an anonymous Twitter user for $10 Million. Now, Woods may be one step closer to unmasking the man behind the allegedly defamatory and critical tweets.
The pseduonymous Twitter user who tweeted as Abe List (the handle @abelisted has since been removed) referred to the Oscar nominee as a "cocaine addict." Abe List also referred to Woods as a "joke" and "a ridiculous scum clown-boy." The user tweeted out the drug accusation after Woods made controversial comments about Caitlyn Jenner. Woods remarked,
"USATODAY app features Bruce Jenner's latest dress selection but makes zero mention of Planned Parenthood baby parts market."
In the lawsuit, filed in Los Angeles Superior Court, Woods sought to reveal the identity of the user. The defendant, known in court filings as John Doe, will now face that very prospect.
Judge Mel Red Recana of the Superior Court denied a motion by Abe List's lawyers to strike down the suit. This is significant because it could potentially reveal the man behind the handle. This lawsuit sounds like the plot of a James Woods movie in and of itself!
In order to identify the user prior to the failed motion, Woods' counsel would likely have had to successfully subpoena the user's internet service provider, or Twitter. Twitter refused such requests on First Amendment grounds.
In Woods' complaint his lawyer, Michael Weinsten, alleges:
"AL's [Abe List] reckless and malicious behavior, through the worldwide reach of the Internet, has now jeopardized Woods's good name and reputation on an international scale."
Abe List's lawyers have summarized their client's actions and allegedly defamatory claims as hyperbole. "It was uttered on Twitter, a platform known for insult and exaggeration," his attorneys argued in a motion filed in September.
[h/t SkyNews]
[Screengrab via ABCNews]
Have a tip we should know? [email protected]