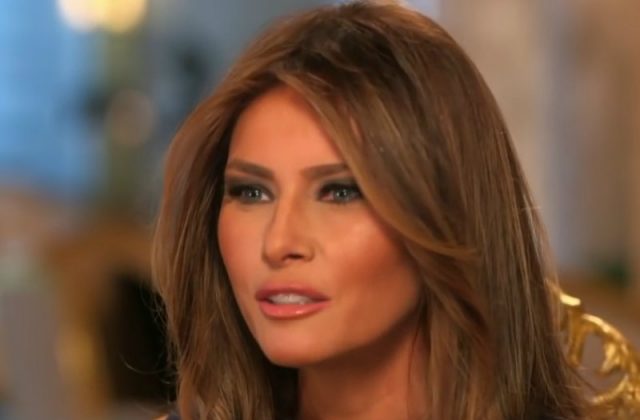 Melania Trump has won at least the very first round in what will likely be a long battle in her defamation lawsuit against a Maryland blogger and The Daily Mail. Both outlets made claims about her being a high-end escort during the 2016 election which she called false and defamatory.  Attorneys for Webster Tarpley, the blogger, tried to get the case dismissed claiming that the lawsuit was frivolous, and didn't meet the "actual malice" test necessary for public figures.
However, according to Politico reporter Josh Gerstein, Montgomery County, Maryland Circuit Court Judge Sharon Burrell did not agree to dismiss Trump's suit. "The court finds the plaintiff has stated a claim for defamation," Burrell ruled after a hearing. "The court believes most people, when they hear the words 'high-end escort' that describes a prostitute. There could be no more defamatory statement than to call a woman a prostitute."
After the election, Melania Trump decided to move forward with the lawsuit against the 70-year old blogger and The Daily Mail for $150 million dollars. Shortly after the articles were published, both The Daily Mail and Tarpley apologized and retracted their stories about the First Lady.   Trump hired Los Angeles-based attorney, Charles Harder, who has gained national fame for representing Hulk Hogan in his lawsuit against Gawker to represent her.
Last year, on Tarpley's website, Tarpley.net, he blogged about how there were reports that Melania suffered from a "breakdown" after accusations she plagiarized portions of her speech at the GOP Convention, according to court documents. He also blogged about "rumors" from other sources that Melania once worked as a high-end escort. The Daily Mail published a similar story, which has since been retracted, but Melania sued them as well.
In a court filing to get the case dismissed, Tarpley accused Trump of acting in bad faith by filing the lawsuit, because she filed it after Tarpley "immediately" complied with Trump's attorneys request to retract the article and apologize. However, the judge is apparently letting the case proceed, and said there is no indication that Trump filed the suit in bad faith. Melanie Trump did not appear in court.
[image via screen grab]
Have a tip we should know? [email protected]
Rachel Stockman - President / On Air Host