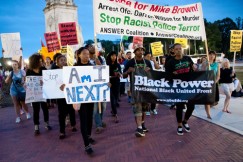 The U.S. Justice Department is filing a lawsuit in U.S. District Court against the city of Ferguson, Missouri, alleging a systemic pattern of law enforcement conduct that violates the First, Fourth and 14th Amendment of the Constitution and federal civil rights law.
Attorney General Loretta Lynch, the first black woman to hold the position, explained the decision in a press conference with reporters on Wednesday.
The Ferguson Police Department's violations were expansive and deliberate.  They violated the Fourth Amendment by stopping people without reasonable suspicion, arresting them without cause and using unreasonable force.  They made enforcement decisions based on the way individuals expressed themselves and unnecessarily escalated non-threatening situations.  These violations were not only egregious – they were routine.  They were encouraged by the city in the interest of raising revenue.  They were driven, at least in part, by racial bias and occurred disproportionately against African-American residents.  And they were profoundly and fundamentally unconstitutional.
This comes after Ferguson officials rejected a negotiated deal with the Justice Department over policing reforms in the overwrought city. The deal would have been a court-enforceable consent decree intended to bring about necessary police and court reforms.
From the outset, we made clear that our goal was to reach an agreement to avoid litigation. But we also made clear that if there was no agreement, we would be forced to go to court to protect the rights of Ferguson residents.
The negotiated deal is reported to have included progressive changes to policing efforts, including de-escalation tactics, extensive mandated training programs, non-force solutions and community engagement.
In her remarks, Attorney General Lynch poignantly summarized that the people of Ferguson should not be forced to wait any longer for justice.
[h/t Huffington Post/Justice Department]
Have a tip we should know? [email protected]