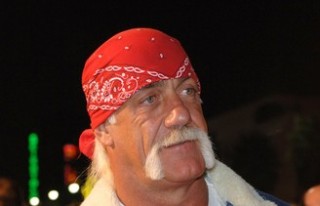 After awarding $115 million to Hulk Hogan for economic and emotional damages in his trial against Gawker, they dropped another bomb on the gossip site with just over $25 million in punitive damages on Monday. While the first amount was designated to compensate Hogan, real name Terry Bollea, for the damage Gawker caused by posting excerpts of a sex tape featuring the wrestler, the second award is meant specifically to punish Gawker for their actions. $15 million are to be paid by Gawker $10 million by founder Nick Denton, and $100,000 by former editor-in-chief A.J. Daulerio.
Prior to deliberations, at least one juror was thinking outside of the box for punitive damages, according to CNN's Tom Kludt.
Juror asks if community service is an option in punitive damages. No, the judge says. #hulkvsgawk

— Tom Kludt (@TomKludt) March 21, 2016
While Gawker plans on appealing the decision, and will likely get the amount reduced, Florida law says they'll have to post a $50 million bond during the process. They can try to appeal the bond requirement, but they would have to convince Judge Pamela Campbell, who presided over the trial, to let them off the hook. Good luck with that, since Judge Campbell has hardly been Gawker-friendly throughout this process. The judge had previously sealed documents related to the case that Gawker wanted to use as evidence, and an appellate court overturned her decision, making them available to the public.
Those documents could play a factor on appeal, as they were not unsealed until after the jury was already deliberating. They contained transcripts of depositions and conversations that indicated that Hogan may not have been as upset about the sex tape as he let on. As it turns out, there were multiple tapes, including one where Hogan was recorded using ethnic slurs. Based on the unsealed documents, Hogan was more concerned about people seeing the footage of him using the epithets than the actual sex. The video that Gawker posted did not include any such offensive remarks.
Not only that, the documents include a statement from Bubba "The Love Sponge" Clem, Hogan's former friend who recorded the videos, where Clem told the FBI that Hogan knew he was on camera. This was contradicted by sworn statements later made by Clem and his ex-wife Heather Cole, who was in the video with Hogan, saying that Hulk had no idea he was being recorded.
While this information may not have anything to do with Gawker's actions, they could have influenced the jury when determining the harm, particularly emotional harm, that Hogan suffered.
In the meantime, Gawker has their work cut out for them, as they try to appeal their way out of a nine-figure hole.
Update 5:59pm: Heather Dietrick, President & General Counsel of Gawker Media issued the following statement after the verdict was announced:
Soon after Hulk Hogan brought his original lawsuits in 2012, three state appeals court judges and a federal judge repeatedly ruled that Gawker's post was newsworthy under the First Amendment. We expect that to happen again — particularly because the jury was prohibited from knowing about these court rulings in favor of Gawker, prohibited from seeing critical evidence gathered by the FBI and prohibited from hearing from the most important witness, Bubba Clem.

Didn't the jury deserve to know that Bubba told his radio listeners and then the FBI, in a meeting where lying is a criminal offense, that Hulk Hogan knew he was making a sex tape? Didn't the jury deserve to know the FBI uncovered multiple tapes of Hulk Hogan having sex with Bubba's wife? Didn't the jury deserve to know about the text messages Hulk Hogan sent to Bubba that undermine this case?

There is so much this jury deserved to know and, fortunately, that the appeals court does indeed know. So we are confident we will win this case ultimately based on not only on the law but also on the truth.
Have a tip we should know? [email protected]